UN nuclear officials want Iranian cooperation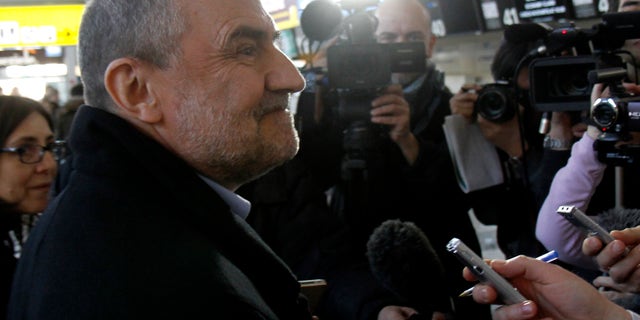 VIENNA -- The head of a U.N. nuclear team traveling to Iran on Saturday urged the country to work with his mission on probing Tehran's alleged attempts to develop an atomic arms program, adding such cooperation is long overdue.
The unusually blunt comments by International Atomic Energy Deputy Director General Herman Nackaerts reflected the importance the IAEA is attaching to the chief focus of the trip -- ending more than three years of Iranian refusal to answer questions about such suspicions.
Ahead of departure, Nackaerts told reporters at Vienna airport he hopes Iran "will engage with us on all concerns."
"So we're looking forward to the start of a dialogue," he said: "A dialogue that is overdue since very long."
Diplomats said Iran had accepted the inclusion of two senior weapons experts -- Jacques Baute of France and Neville Whiting of South Africa -- with relatively little fuss. That suggests the Islamic Republic may be prepared to address some issues related to the allegations.
Also on the team is Rafael Grossi, IAEA chief Yukiya Amano's right-hand man.
Any progress would be significant.
Tehran has blocked IAEA attempts for more than three years to follow up on U.S. and other intelligence, dismissing the charges as baseless and insisting all its nuclear activities were peaceful and under IAEA purview.
Faced with Iranian stonewalling, the IAEA summarized its body of information in November, in a 13-page document drawing on 1,000 pages of intelligence. It stated then for the first time that some of the alleged experiments can have no other purpose than developing nuclear weapons.
Iran continues to deny the charges and no change in its position is expected during the three-day Tehran talks with IAEA officials. But even a decision to enter a discussion over the allegations would be a major departure from outright refusal to talk about them.
The diplomats said that the IAEA team was looking for permission to talk to key Iranian scientists suspected of weapons work, inspect documents relating to such suspected work and get commitments for future visits to sites linked to such allegations.
Iran says it is enriching only to generate energy. But it has also started producing uranium at a higher level than its main stockpile -- a move that would jump-start the creation of highly enriched, weapons-grade uranium, should it chose to go that route. And it is moving its higher-enriched operation into an underground bunker that it says is safe from attack.