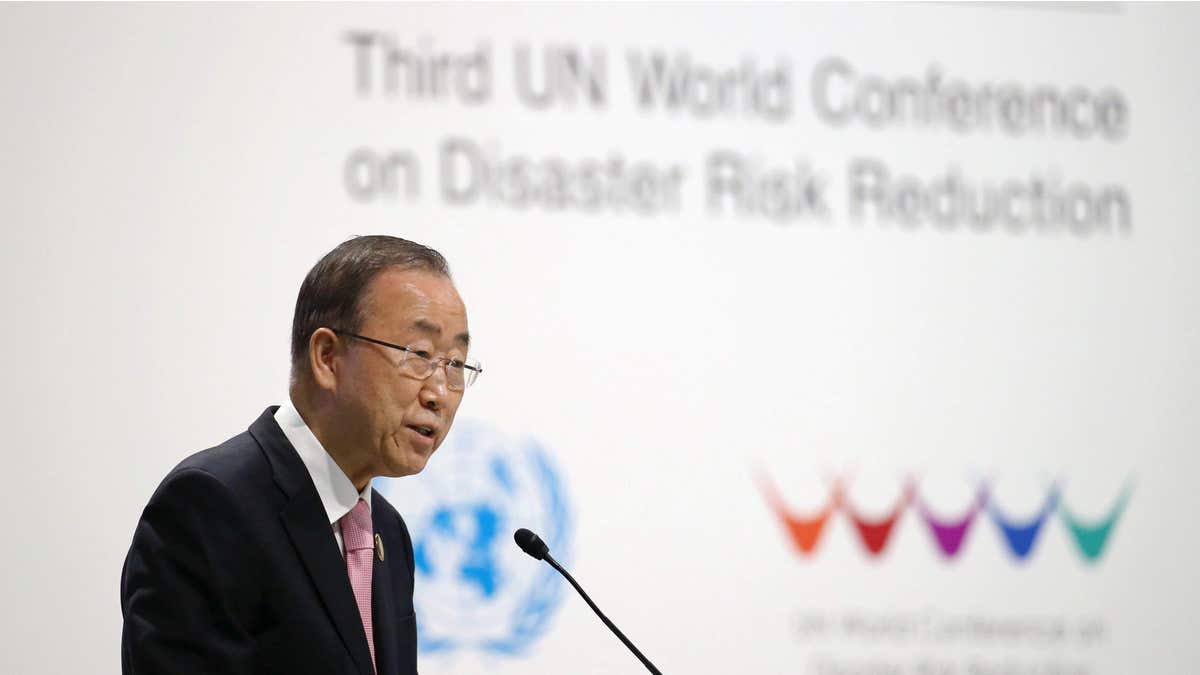 SENDAI, Japan – The president of the Pacific island nation of Vanuatu appealed to a U.N. disaster conference Saturday for help as a powerful cyclone swept across his archipelago, driving painfully home the rising risks from extreme weather and climate change.
"I am speaking to you today with a heart that is so heavy. I do not really know what impact the cyclone has had on Vanuatu," Vanuatu's president, Baldwin Lonsdale, told the U.N. World Conference on Disaster Risk Reduction in the northeastern Japanese city of Sendai.
"I stand to appeal on behalf of the government and the people to give a helping hand in this disaster," he said.
U.N. Secretary General Ban Ki-moon told the conference earlier he met with Lonsdale to express condolences and solidarity. The U.N. said it was prepared to deploy emergency response teams to the islands.
Preventing disaster is "everybody's business," Ban said, urging better help and more safeguards for the world's poorest and weakest people as the threat from climate-related disasters grows.
Pacific island leaders are speaking out at the conference about their concerns, as sea levels rise and extreme storms intensify.
Vanuatu's 260,000 people living on 83 islands are among the most at risk, from earthquakes and tsunamis as well as cyclones.
Emmanuel Mori, president of the Federated States of Micronesia, noted that the dispersed communities and tiny land areas of many islands put such countries at a big disadvantage.
"The world must act and act fast," Mori said, appealing for more effective measures to curb carbon emissions seen as causing climate change.
Ban said the best tribute to victims of disaster would be to ensure the gathering in Japan forges a strong framework for preventing and coping with catastrophes like the triple whammy of massive earthquake, tsunami and nuclear power plant meltdowns that hit northeastern Japan's coastline, including Sendai, four years ago. More than 18,500 people died or were left missing.
"What we are discussing here is very real for millions around the world. We must keep their needs in sharp focus during the negotiations on this agreement," Ban said.
Though low and middle income countries suffer nine out of 10 disaster-related deaths, and need special attention, "But disaster risk is in everybody's interest — and it is everybody's business."
Organizers of the conference have indicated that while all may agree on the need to prevent and cope with disasters, opinions differ on how to best do that and measure the results.
One of the biggest obstacles is the tendency to put off spending on disaster prevention, while disasters cost the world over $300 billion a year on average.
"We can watch that number grow as more people suffer. Or we can dramatically lower that figure and invest the savings in development," he said. Spending $6 billion a year on prevention could help save some $360 billion by 2030.
"Disaster risk reduction is a front-line defense against the impacts of climate change. It is a smart investment for business and a wise investment in saving lives," he said.