UN gives rebels 48 hours to disarm around DR Congo city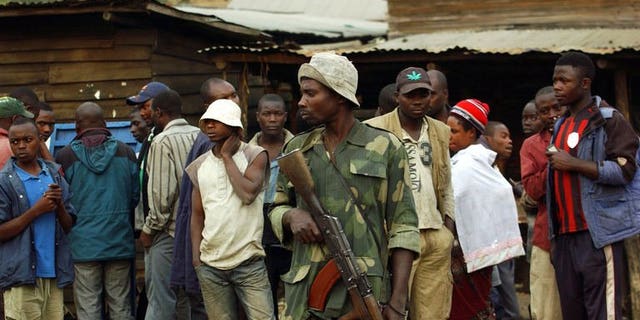 NEWYou can now listen to Fox News articles!
KINSHASA (AFP) – The United Nations on Tuesday gave M23 rebel forces 48 hours to disarm in the area around the city of Goma in the volatile eastern Democratic Republic of Congo or face "the use of force."
A new UN intervention brigade will be used for the first time to help the DR Congo army set up a "security zone" in the city, the international body said.
A statement by the UN mission in DR Congo, MONUSCO, gave M23 rebels around Goma until 4:00 pm (2000 GMT) on Thursday "to hand in their weapon to a MONUSCO base" and join a demobilisation program.
After then, "they will be considered an imminent threat of physical violence to civilians and MONUSCO will take all necessary measures to disarm them, including by the use of force in accordance with its mandate and rules of engagement."
The UN-proposed security zone includes Goma and its northern suburbs.
The M23 launched a new offensive against the DR Congo army outside Goma on July 14, and diplomats say fighting in the past two weeks has left hundreds dead.
"The M23 has used indiscriminate and indirect fire, including by heavy weapons, resulting in civilian casualties," MONUSCO said.
"The M23 has also targeted UN installations with its fire. The security zone will push these indirect fire threats out of range of Goma. The security zone may be expanded and repeated elsewhere, where it is needed," the statement said.
UN experts and the DR Congo government have said Rwanda has supplied troops and military aid to the M23, allegations denied by Kigali.
The United States last week called on Rwanda to end its alleged backing of the rebel forces.
Rwanda and DR Congo are both signatories to a UN-brokered peace and security framework signed in March agreeing not to interfere in each other's affairs.
DR Congo further agreed to reform its security forces and take new efforts to spread government authority.
Also Tuesday, the UN refugee agency reported a spike in sexual violence in the region, with 705 cases recorded since January, including 619 cases of rape.
"We are worried that the fighting between the ADF, a Ugandan rebel group, and the (DR Congo) army as well as renewed fighting between the army and the M23 rebels near (Goma) will increase the danger for women in the region, including those living in camps," it said.
More than half of the cases of sexual violence were committed by armed men, the UN High Commissioner for Refugees said in the statement.