Ukrainian singer's ballad about 1944 Crimea wins Eurovision contest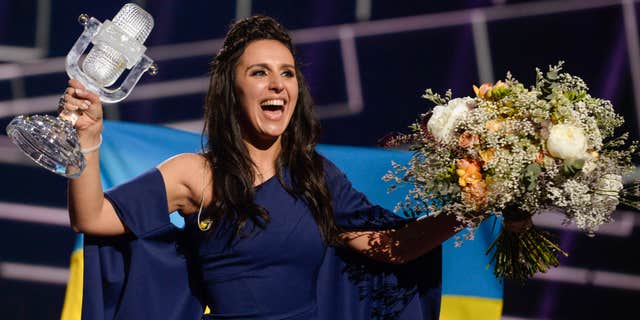 NEWYou can now listen to Fox News articles!
A Ukrainian singer's tune about Soviet dictator Josef Stalin's 1944 deportation of the Crimean Tatars was crowned the winner of the 2016 Eurovision Song Contest Sunday.
Susana Jamaladinova, a 32-year-old trained opera singer who uses the stage name of Jamala, received the highest score of 534 points for her song "1944," after votes from juries and TV viewers across Europe were tallied following performances Saturday night by the 26 finalists at Stockholm's Globe Arena.
Jamala's song focused on Crimea. Her lyrics recalled how Crimean Tatars, including her great-grandmother, were deported in 1944 by Soviet authorities during World War II. Many died during the deportations or starved to death on the barren steppes of central Asia. Decades later some of the survivors were allowed to return to the Crimean Peninsula.
The focus of the song received some attention because Crimea was annexed by Russia in 2014 even though it was opposed by its Tatar minority. Jamala insisted there was no political subtext, and contest officials agreed. The rules of the contest prohibit political statements.
"I was sure that if you sing, if you talk about truth, it really can touch people," she told reporters after the competition.
Jamala defeated Russia's contestant Sergey Lazarev. Lazarev finished in third place with 491 points.
Lazarev's club anthem "You Are the Only One" had the most striking visual effects. At one point the black-clad Russian scaled a LED display and rode a virtual iceberg through space.
Some Russian fans accused the judges of political bias, noting that Lazarev got the highest score in the popular vote.
"I'm so sad," said Dennis Kalinkin, a 29-year-old Russian who lives in France. "All of Europe voted for Russia. Russia was first. But the jury voted for other countries."
Lazarev downplayed any political motivations about Jamala's victory.
"I am trying to think that it is all about music and not about politics. We are at a song contest, not a political one," he told reporters.
It was Ukraine's second Eurovision win; its first came in 2004 when Ruslana won. The victory means Ukraine gets to host the contest next year.
Asked by a Crimean journalist whether Jamala thought the competition should be held in Crimea, Jamala answered "I hope Eurovision will be in Ukraine."
The theme of this year's contest was "Come Together," a subtle message for Europe to stay united amid a backlash against migration to the continent and rising nationalism.
In a rare serious moment at the beginning of the show co-host Mans Zelmerlow — last year's winner for Sweden — warned that Europe once again is "facing darker times."
The director of the TV alliance that produces the Eurovision Song Contest said the show's message of unity is particularly significant at a time when Europe is seeing its internal borders returning and Britain is holding a referendum on whether to exit from the European Union.
European Broadcasting Union Director-General Ingrid Deltenre told The Associated Press before Saturday's final that "you have reactions in Europe which are very polarizing ... we are sending out a signal. It's a signal about tolerance, about openness, about diversity."
The show was broadcast live in Europe, China, Kazakhstan, Australia, New Zealand and, for the first time, the United States. Last year's contest reached nearly 200 million viewers globally.
The Associated Press contributed to this report.