Ukraine claims its forces enter rebel stronghold of Luhansk amid aid talks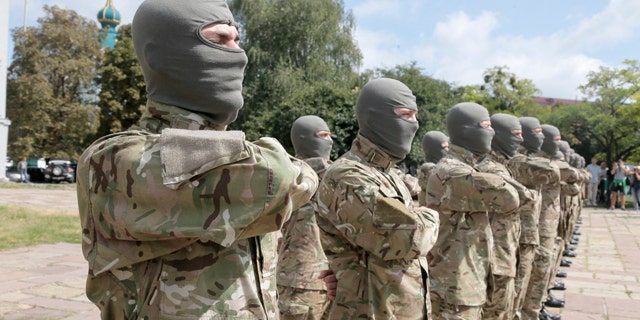 Ukrainian officials said Sunday that government troops had moved into the center of the rebel stronghold of Luhansk, one of two cities that had underpinnned the territory claimed by pro-Russian separatists as a breakaway state.
Officials told The New York Times that army units had raised Ukraine's blue-and-yellow national flag over a police station in the center of Luhansk that had been held by rebels for several months. However, the paper reported that other parts of the city were still believed to be under rebel control.
Luhansk and the larger city of Donetsk have been centers of rebel activity and the ultimate destinations for many Russian fighters, as well as Russian aid. In recent weeks, the rebels have rapidly ceded territory to Kiev's forces amid reports of breakdowns in discipline and the departure of three key battlefield commanders.
However, rebel forces have continued to show formidable fighting capabilities.
Ukrainian military spokesman Oleksiy Dmitrashkovsky said Sunday that the separatists shot down a Ukrainian fighter plane over the Luhansk region after it launched an attack on rebels. The pilot ejected and was taken to a secure place, he said. Another military spokesman, Andriy Lysenko, later said that the status of the pilot was still being clarified.
Also Sunday, an Associated Press reporter spotted a column of armored vehicles southeast of Luhansk outside a town very close to the Russian border and heading west, deeper into rebel-held territory. It was unclear whether the column had come from Russia. Among the armored vehicles was a Strela-10, a short-range surface-to-air missile system capable of hitting targets up to 11,500 feet. Russia has consistently denied allegations that it is supporting the rebels with equipment or training.
Word of the Luhansk offensive came as the foreign ministers of Ukraine, Russia, Germany and France met in Berlin Sunday to discuss a possible cease-fire and the distribution of humanitarian aid to the war-torn region. German Foreign Minister Frank-Walter-Steinmeier said after the five-hour meeting that "frank words" had been exchanged and he believed there had been progress "on some issues," without elaborating.
Russian Foreign Minister Sergey Lavrov claimed to Reuters that all sides had reached an agreement on issues related to the dispatching of a large purported humanitarian aid convoy to Ukraine by Moscow, but no progress has been made toward achieving a cease-fire.
The convoy is poised to cross with supplies intended for Luhansk and other afflicted zones.
Weeks of fighting have taken their toll on Luhansk, which city authorities say has reached the verge of a humanitarian catastrophe. The siege mounted by government forces has ground delivery of basic provisions to a halt and cut off power and running water.
Part of the aid convoy headed to the frontier crossing on Sunday, but the 16 white trucks then stopped. The nearly 270 vehicles has been marooned for days in a town near the border amid objections from Ukraine, which initially complained that the mission was not authorized by the International Committee for the Red Cross.
The Red Cross, which would have responsibility for distributing the aid, on Saturday said the main holdup was a lack of security guarantees from all sides in the conflict.
A large X-ray machine was brought to the Russian crossing point in the afternoon, and Paul Picard, the head of a border-monitoring mission from the Organization for Security and Cooperation in Europe, said it would be used to inspect the cargo.
Fighting, including frequent shelling, is also affecting Donetsk, Ukraine's main rebel-held city. Ten civilians have been killed and eight wounded in the past 24 hours, city authorities reported Sunday.
The leader of the self-proclaimed separatist government in the Donetsk region, Alexander Zakharchenko, has boasted that his forces have been bolstered by 1,200 fighters who underwent training in Russia and were brought in at a "crucial moment." In a video of his speech that was posted online over the weekend, he said the fighters have 150 armored vehicles, including 30 tanks, and have gathered near a "corridor" along the Russian border. Zakharchenko did not specify whether the armored vehicles had also come from Russia.
Russian President Vladimir Putin's spokesman, Dmitry Peskov, on Sunday denied that Russia had supplied any armored vehicles to the separatists.
Lysenko, the military spokesman, said the government had information that separatists had received reinforcement from Russia, but added that there is evidence rebels are complaining about not receiving some of the equipment they have been promised.
Ukraine's president on Friday said that Ukraine had destroyed a large number of military vehicles that had recently crossed from Russia.
The Associated Press contributed to this report.
Click for more from The New York Times.