UK building explosion leaves at least four dead, several hospitalized, police say
At least four people were killed in a massive building explosion in the English city of Leicester, police said Monday.
Leicestershire police said four people were still hospitalized, including one with serious injuries.
"There are four confirmed fatalities at this stage and a number of people still undergoing treatment in hospital," Leicestershire police superintendent Shane O'Neill said. "The building consisted of a shop premises on the ground level and a two-story flat above it. We believe there may be people who have not yet been accounted for and rescue efforts continue in order to locate any further casualties."
The explosion occurred just after 7 p.m. Sunday on a crowded street that leads into Leicester's city center. Six fire engines and a hazardous material response team were initially deployed to the scene.
The street is a mix of apartments and small shops and restaurants. Police said a number of buildings near the fire were damaged. Police said it was still unclear what caused the explosion, but authorities said the blast did not appear to be terror related.
"The cause of the explosion and fire is still yet to be determined and we will work closely with colleagues from the police as our enquiries into the circumstances continue today," O'Neill said.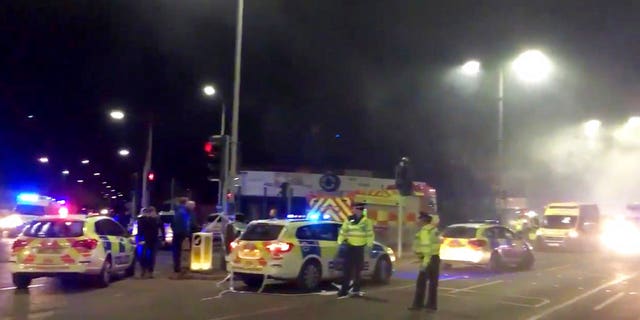 Video footage from the scene showed a building that appeared engulfed in towering flames and a number of police cars and ambulance stationed nearby.
This footage shows the aftermath of an apparent explosion in the Hinckley Road area of Leicester. Police have declared a "major incident." More information as we get it. pic.twitter.com/ghVIGEYjdk

— BBC East Midlands (@bbcemt) February 25, 2018
A nearby resident told the Leicester Mercury newspaper they "heard a huge bang and ... came out of the house and saw the flames."
Another neighbor said "there was an awful lot of smoke," Sky News reported. She added that the building, described as a store, "doesn't appear to be there anymore."
Leicester is 110 miles north of London.
The Associated Press contributed to this report.