Ugandan presidential candidate taken to unknown location following arrest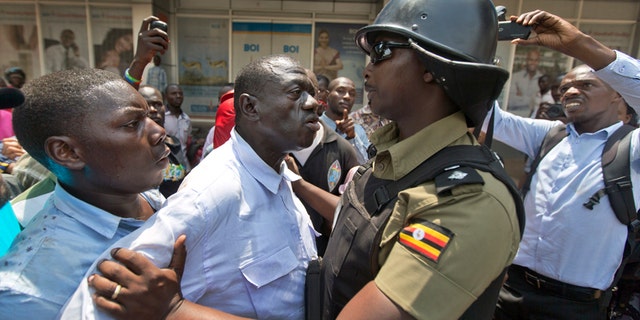 NEWYou can now listen to Fox News articles!
KAMPALA, Uganda – Police in Uganda arrested opposition leader Kizza Besigye at his party's headquarters Friday after heavily armed police surrounded the building and a helicopter fired tear gas at a crowd. Vote counting continued in the country's tumultuous elections.
Semujju Nganda, a spokesman for Besigye's Forum for Democratic Change party, said police took Besigye to an unknown location. Afterward, they fired tear gas and live ammunition into the air as warning shots, as well as detonating stun grenades.
Besigye, the main rival to President Yoweri Museveni, had been holding a meeting with other leaders of his party, said Ingrid Turinawe, an aide to Besigye.
"The police basically invaded us," she said.
The voting Thursday suffered delays in delivery of voting materials, especially in areas seen as opposition strongholds. Voting is taking place Friday at 36 polling stations in Kampala and the neighboring district of Wakiso where no voting took place on Thursday.
The government also shut down social media sites such as Twitter and Facebook. But using virtual private networks, or VPNs, many Ugandans are slowly getting back on social media.
Besigye's party was running its own tally center and discovered that some of the results being announced by the election commission are a "concoction," Turinawe said, noting that the election commission is announcing results according to tallies from polling stations, not according to districts as had been expected.
Provisional results released Friday showed Uganda's long-time president with an early lead over Besigye.
Museveni has 62 percent of the vote and Besigye has 33 percent, according to results from about 23 percent of polling stations across the country, as announced by the election commission. Final results are expected Saturday. More than 15 million people were registered to vote, with members of parliament also up for election.
Gerald Bareebe, a political science scholar at the University of Toronto who is now back home in Uganda, said he had educated scores of Ugandans about free apps to help them override the social media shutdown.
He said those who get back on Twitter, for example, have "the feeling that you have overpowered the mighty state."
Besigye was briefly arrested late Thursday after visiting a house in Kampala where he suspected ballot-stuffing was taking place. Police said the house was a security facility and accused Besigye of trespassing on government property.
Museveni, 71, took power in 1986 and pulled Uganda out of years of chaos. He is a key U.S. ally on security matters, especially in Somalia. Hs critics worry he may want to rule for life, and accuse him of using security forces to intimidate and harass the opposition.
Besigye, 59, was Museveni's personal physician during a bush war and served as deputy interior minister in Museveni's first Cabinet. He broke with the president in 1999, saying Museveni was no longer a democrat.