U.S. To Send Economic Advisory Team To Puerto Rico To Help With Recession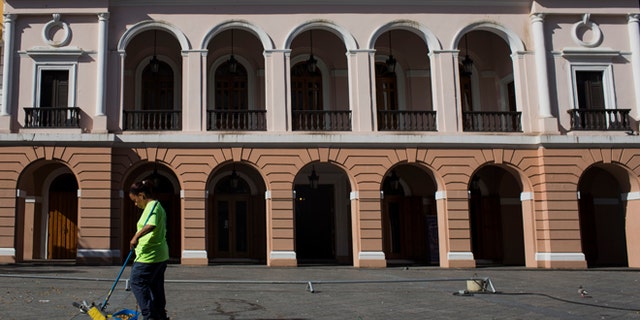 SAN JUAN, Puerto Rico (AP) – The U.S. government is sending a team of federal officials to help Puerto Rico manage an economic crisis that has spooked investors as the U.S. territory braces for its eighth year of recession.
The team will be composed of officials from the departments of Education, Health and Human Services, and Housing and Urban Development, as well as the Environmental Protection Agency, a U.S. administration official said Wednesday. The official spoke on condition of anonymity because he was not authorized to publicly discuss the effort.
Officials will travel to Puerto Rico starting in December to work with the U.S. territory's government on how best to maximize federal funds in those areas to help boost its economy. The officials will work in an advisory capacity, making sure federal money available to Puerto Rico is being taken advantage of and is being appropriately administered. No additional federal funds are planned beyond current allocations.
Former Puerto Rico House Speaker Jenniffer González said she considers the move as a type of receivership.
"It shows the lack of trust that the federal government has concerning the capacity of the current administration over economic and fiscal matters," said González, a representative affiliated with the pro-statehood New Progressive Party.
While Gov. Alejandro García Padilla did not respond to requests for comment regarding the announcement, his chief of staff Ingrid Vila rejected González's comments.
"There is no federal takeover of Puerto Rico," she said. "Our economic plan is working, and we are continuing to work through the next phases of our plan, which includes tapping the Obama Administration for advice on how we can maximize our federal resources, so that we can grow the Commonwealth's economy."
The U.S. administration official stressed that the federal government routinely has conversations about similar initiatives with governors, mayors and county leaders across the U.S., noting there's a current initiative called "Strong Cities, Strong Communities" in which federal teams work inside city halls to encourage economic growth.
The team was created by a presidential task force that has previously worked with Puerto Rico on issues related to its political status. President Bill Clinton created the task force in 2000 to analyze Puerto Rico's status, but President Barack Obama's administration expanded its scope to make recommendations on policies affecting areas such as education, health care and economic development.
The task force includes members from every Cabinet agency and issued its last report in March 2011.
Formation of the team follows recent speculation that Washington might step in to help the Caribbean territory's government as it struggles with $69 billion in public debt and a 13.9 percent unemployment rate, higher than any U.S. state.
The island's general obligation bonds have been hovering at just above near-junk status.
In September, Puerto Rico's Government Development Bank announced it would cut bond sales after investors pushed the yield on Puerto Rico bonds above 10 percent. Shortly afterward, García said he would increase the borrowing capacity of Puerto Rico's main debt issuer, the Sales Tax Financing Authority.
García also has taken other measures to appease Wall Street ratings agencies, including the reformation of a public pension system that had a $37.3 billion unfunded liability.
The federal officials will work with García to outline joint economic goals, with a review expected in about six months. Helping the team will be U.S.-based officials with the Office of Management and Budget, the National Economic Council and the Treasury Department.
Follow us on twitter.com/foxnewslatino
Like us at facebook.com/foxnewslatino