U.S. adds just 38K jobs in May, the lowest monthly figure in 5 years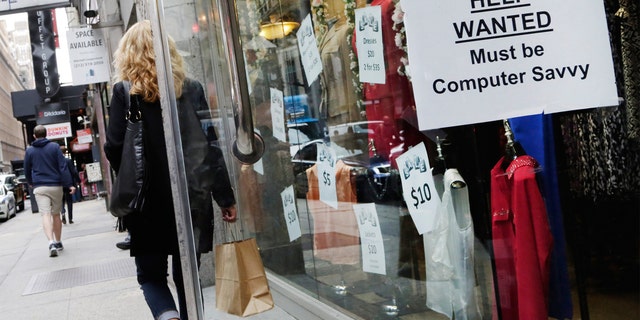 WASHINGTON (AP) – United States employers drastically slowed their hiring in May, adding just 38,000 jobs, the fewest in more than 5 years and a sign of concern after the economy barely grew in the first three months of the year.
At the same time, the unemployment rate tumbled to 4.7 percent from 5 percent, the Labor Department said Friday, its lowest point since November 2007. The rate fell for a problematic reason: Nearly a half-million jobless Americans stopped looking for work and so were no longer officially counted as unemployed.
The much-weaker-than-expected jobs report will raise doubts that the Federal Reserve will increase the short-term interest rate it controls at its next meeting in mid-June or perhaps even at its subsequent meeting in late July. Many analysts had expected an increase by July.
"The shockingly low payrolls gain in May provides further evidence that the economy is showing clear signs of slowing," said Laura Rosner, an economist at BNP Paribas.
It is also likely to roil the presidential race, as the expected GOP nominee Donald Trump called it a "terrible jobs report" and a "bombshell" on Twitter. The figure comes just days after President Obama touted his economic record in Elkhart, Indiana.
Hiring in March and April was also revised lower, with job gains now just 123,000 in April, down from an initial estimate of 160,000. March was downgraded to 186,000 from 208,000.
Job gains have now averaged just 116,000 in the past three months, down sharply from an average of 230,000 in the 12 months ending in April.
Investors reacted to the report by selling stocks and buying bonds, which tend to hold up better during times of economic weakness. The Dow Jones industrial average fell 100 points, or 0.6 percent, in early trading, and the yield on the 10-year Treasury note fell to 1.71 percent from 1.80 percent the day before, a large move.
The May figure was lowered by the Verizon workers' strike, which depressed hiring in the telecom sector by 34,000.
Still, job losses were widespread: Manufacturers cut 10,000 positions, while construction firms cut 15,000. Temporary help firms shed 21,000 jobs. Retailers, hotels and restaurants added jobs, but at a slower pace than recent months.
The proportion of adults working or looking for work dropped to 62.6 percent, near four-decade lows. Millions of Americans had come back into the labor market over the fall and winter, but that trend has partially reversed in April and May.
The government has estimated that the economy grew at just a 0.8 percent annual rate in the January-March quarter.
Yet Friday's dismal jobs report was a surprise in part because most recent economic reports have been encouraging: Consumer spending surged in April. Americans ramped up purchases of autos and other big-ticket items, like appliances.
Home sales and construction have also increased. Sales of new homes reached an eight-year high in April.
Even manufacturing, which has suffered from weak growth overseas and a strong dollar that has depressed exports, is showing signs of stabilizing. Factory activity expanded in May for a third straight month, according to a survey of purchasing managers.
Most economists expect growth will rebound in the April-June quarter to about a 2.5 percent annual pace.
But Patrick O'Keefe, director of economic research at the accounting firm CohnReznick, isn't so bullish on the economy's trajectory.
"Jobs growth is decelerating," he said. "It's not turning negative, but it is slowing down.... This is a mature recovery. Its pace is levelling off."
In December, after months of economic improvement, the Fed raised its benchmark short-term rate after pegging it near zero for seven years. In March, officials indicated that they expected just two additional increases this year.
Chair Janet Yellen has long made it clear that she studies a "dashboard" of job market data to help assess the economy's health, rather than a single number such as hiring or unemployment.
Fed officials may not keep investors guessing for long: Yellen will speak Monday in a closely watched address that may show how she has interpreted Friday's report. And Lael Brainard, a Fed official who is a longtime skeptic of raising rates, will speak later Friday.
Like us on Facebook
Follow us on Twitter & Instagram