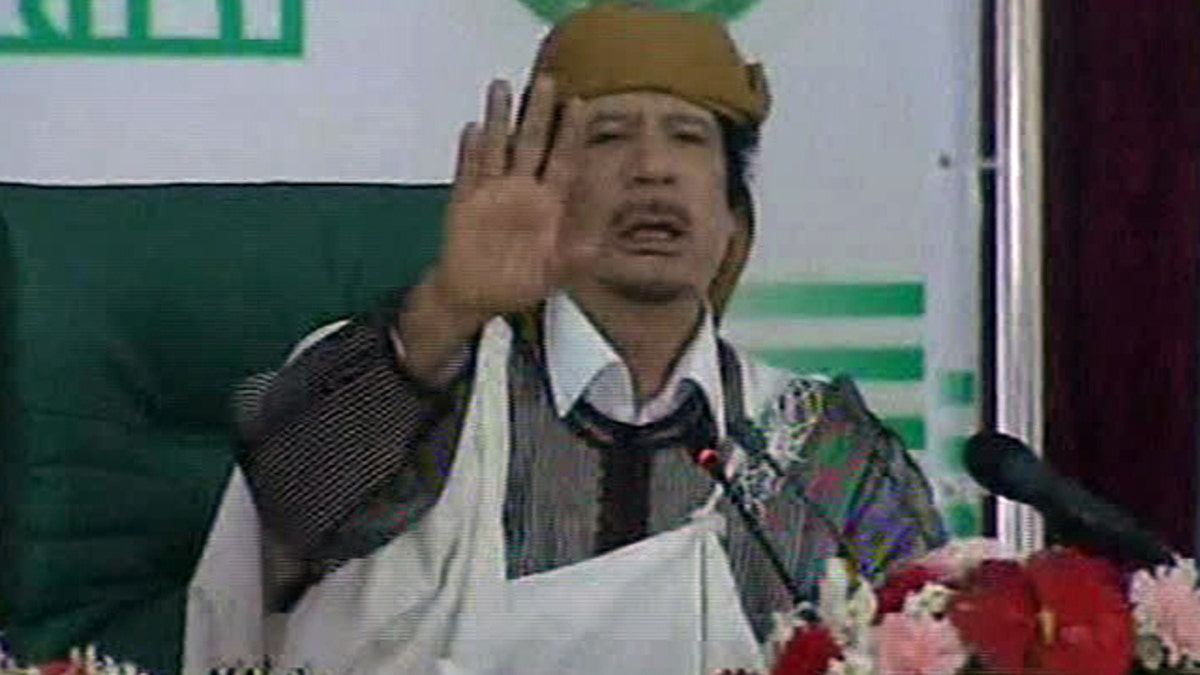 The U.N. Human Rights Council has postponed consideration of a report that praises Libyan leader Muammar al-Qaddafi's government for its human rights record.
The report was written several months before the uprising in Libya -- which has pitted Qaddafi, as well as armed loyalists and mercenaries, in a violent battle against his own people. But it was nevertheless scheduled for consideration and a vote on March 18, even as the U.N. General Assembly voted Monday to suspend Libya from the Human Rights Council.
After concerns were raised about the possibility of the council undermining its own actions by considering the report, the council decided Thursday to put off the vote.
Eileen Chamberlain Donahoe, the U.S. ambassador to the council, welcomed the decision.
"We hope that the council completes adoption of the report at such a time when the voices of the Libyan people, and not just the voice of the Qaddafi regime, can be reflected in its final outcome," she said. "The United States remains appalled by the situation in Libya and demands an immediate halt to the violence perpetrated by the Qaddafi government against its own citizens."
U.N. Watch, a United Nations watchdog group which had called on the council to stop the report, likewise greeted the decision – though Director Hillel Neuer said the council should nix the report altogether.
He said its main effect was to "bolster Qaddafi's oppressive regime, demoralize his victims, and harm the reputation of the U.N. The review should be completely redone, and the truth told about Qaddafi's crimes."
The review commended Libya for improving educational opportunities, for making human rights a "priority" and for bettering its "constitutional" framework. Several countries, including Iran, Venezuela, North Korea, and Saudi Arabia but also Canada, gave Libya positive marks for the legal protections afforded to its citizens.
The report -- put together after a November 2010 session -- included dozens of recommendations for how Libya could improve human rights. But it also included pages of commentary, mostly positive, from the other 46 delegations to the controversial Human Rights Council.
Sudan's delegation praised Libya for improving education conditions. North Korea noted Libya's progress "in the field of economic and social rights." Saudi Arabia praised Libya for improvements in "constitutional, legislative and institutional frameworks, which showed the importance that the country attached to human rights."
The U.S. delegation was one of a handful that offered substantive criticism of the regime at the time.