Tymoshenko court hearing postponed in Ukraine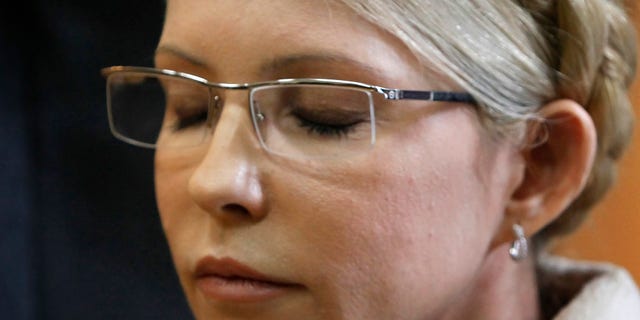 NEWYou can now listen to Fox News articles!
KIEV, Ukraine-- A Ukrainian court on Saturday postponed a hearing in the second criminal case against the jailed former prime minister and opposition leader Yulia Tymoshenko, whose treatment in prison has raised concerns in Europe.
She was due in court in the eastern city of Kharkiv, but the judge agreed to postpone the hearing due to the poor state of her health. The next hearing was set for May 21.
Tymoshenko is on a hunger strike to protest alleged abuse in a Kharkiv prison. She claims that guards punched her in the stomach and twisted her arms and legs while forcibly taking her to a hospital to be treated for debilitating back pain.
She is serving a seven-year prison sentence on charges of abusing her powers as prime minister in negotiating an energy deal with Russia. The West has strongly condemned the case as politically motivated and threatened to freeze cooperation with Ukraine.
In the second case, she is charged with evading taxes while heading an energy company in the 1990s.
German Foreign Minister Guido Westerwelle said he was "shocked by the reports about the abuse" suffered by Tymoshenko and shared her family and friends' concerns for her health.
"She is refused appropriate treatment against all legal and moral duties," he was quoted as saying in the Sunday paper Frankfurter Allgemeine Sonntagszeitung.
Germany has been leading the European Union's critical stance on Ukraine over the Tymoshenko case. The government in Berlin is offering to treat her in Germany, but Kiev has rejected the offer. Tymoshenko refuses to be treated in Ukraine, saying she does not trust the medical system.
Tymoshenko denies the abuse of power charges, saying they are part of a campaign by President Viktor Yanukovych, her longtime foe, to bar her from politics. Yanukovych has denied involvement in the case.