Turkey arrests more than 1,000 'secret imams' in police purge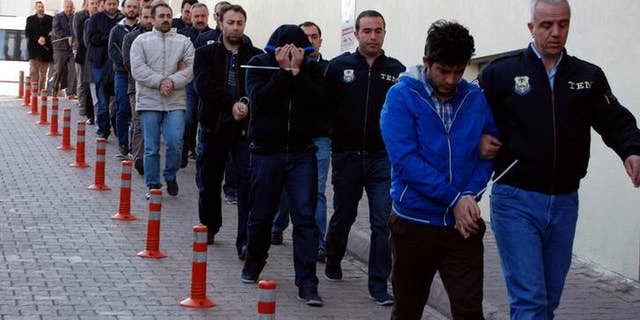 Turkish police on Wednesday arrested more than 1,000 people accused of ties to a U.S.-based cleric blamed for a failed coup, in the latest mass crackdown of government opponents.
Within hours, the government suspended more than 9,000 officers, AFP reported.
Government officials claimed hundreds of people secretly infiltrated police forces across the country in support of cleric Fethullah Gulen, an ally of President Tayyip Erdogen until he was accused of trying to oust the president from office. Erdogen narrowly won a referendum expanding his powers earlier this month.
CAMPAIGNING FOR TURKEY REFERENDUM HITS FINAL STRETCH
The overnight police purge targeting a Gulen network "that infiltrated our police force, called 'secret imams,'" Interior Minister Suleyman Soylu told reporters, according to Reuters.
Many relatives of those who were detained or suspended since July said they had no affiliation to those wanting to overthrow the government and were victims of a purge aiming to solidify Erdogan's power.
TURKEY DETAINS 412 SUSPECTED KURDISH MILITANTS
Following the failed coup in July in which 249 people died, police arrested more than 40,000 people and suspended 120,000 public service workers including soldiers, police officers, teachers and public servants over accusations of links to terrorist groups.
Most of Wednesday's arrests involved police but other institutions could be next, the BBC reports.
"We are trying to cleanse members of FETO (the Gulenist movement) inside the armed forces, inside the judiciary and inside the police," Erdogan told Reuters shortly before the nationwide sweep.
Gulen, who moved to Pennsylvania after escaping Turkey, denied he was involved in the coup attempt.
Before Wednesday, Turkish officials had detailed an estimated 47,000 people, more than 10,000 of them police. The government has also shut down opposition media outlets.
The Council of Europe's parliamentary assembly on Tuesday placed Turkey under review and called for urgent measures to restore freedom of the press and of expression, angering President Erdogen.
Erdogen accused the EU of "closing its doors on Turkey."