Tunisian police, protesters clash in revolution cradle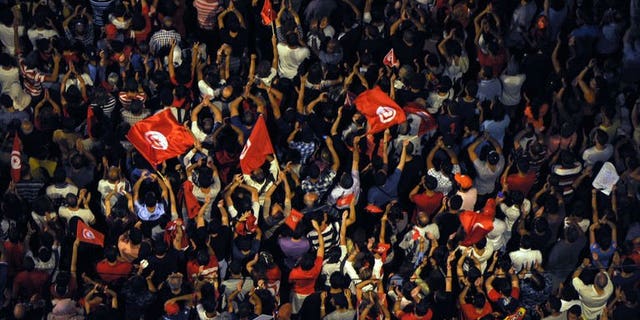 SIDI BOUZID, Tunisia (AFP) – Police used batons and tear gas on Monday against protesters who tried to break into local government offices in Sidi Bouzid, cradle of the 2011 revolution, an AFP journalist said.
Security forces also fired warning shots to disperse several dozen people demonstrating against what they called the incompetence of the local governor, who is close to the ruling Islamist Ennahda party.
Sidi Bouzid has been the site of regular protests since the July 25 murder in the capital of its MP Mohamed Brahmi unleashed a political crisis.
At the end of July, hundreds of protesters tried to block civil servants in the centre-west city from going to work, and police used tear gas against stone-throwing demonstrators.
The demonstrators were demanding the dismissal of the governor, who is regarded as close to the Islamists.
Government detractors say the Ennahda-led cabinet has failed to rein in radical Islamists who have grown in influence and stand accused of a wave of attacks since the 2011 uprising that toppled strongman Zine El Abidine Ben Ali.
The Arab Spring popular uprising began in Sidi Bouzid, Brahmi's home town.
He was the second opposition politician murdered this year after Chokri Belaid was gunned down outside his home in February.
Many Tunisians blame the government for both killings.