Trump's Jerusalem decision spurs protests in West Bank, Gaza
One person was killed and dozens wounded Friday as violence erupted between Palestinians and Israeli troops over President Trump's recognition of Jerusalem as Israel's capital.
A Palestinian protester was shot dead near the Gaza border, the first confirmed death in two days of unrest, Reuters reported.
More than 80 Palestinians were wounded in the occupied West Bank and Gaza by Israeli live fire and rubber bullets, according to the Palestinian Red Crescent ambulance service, Reuters said.
The Israeli army said hundreds of Palestinians were rolling burning tires and throwing rocks at soldiers across the border, according to Reuters reports.
"America is the head of the snake."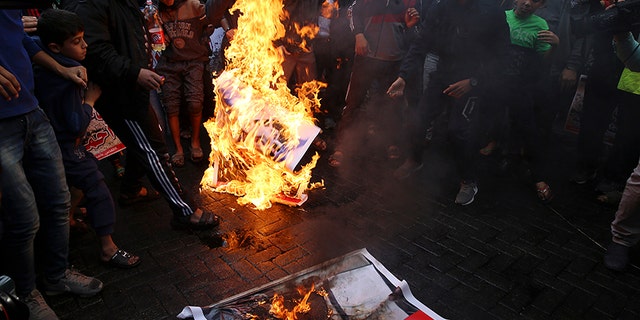 "During the riots, IDF soldiers fired selectively towards two main instigators and hits were confirmed," the army said, referring to Israeli Defense Forces, Reuters reported.
Trump's seismic policy shift on Jerusalem, annouced Wednesday, has angered Arabs and Muslims who view it as an expression of blatant pro-Israel bias on one of the region's most explosive religious and political issues, The Associated Press reported.
Jerusalem is home to major Muslim and Christian shrines, as well as Judaism's holiest site. The Israeli-annexed eastern sector is sought by the Palestinians as a future capital, while Israel says it won't relinquish any part of Jerusalem.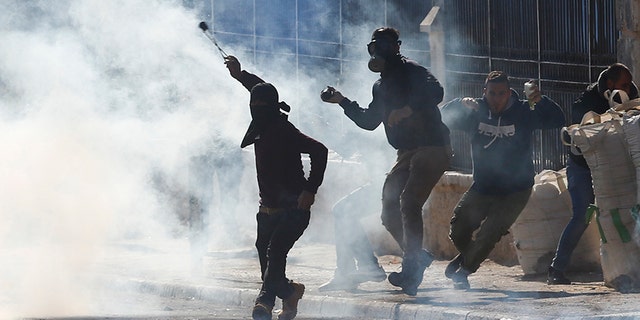 Palestinian political groups had called for massive "day of rage" demonstrations Friday in the West Bank, Gaza and east Jerusalem — lands captured by Israel in 1967 and sought for a Palestinian state.
Separately, the Gaza-based leader of the Islamic militant group Hamas agitated for a third uprising against Israel.
On Friday, al Qaeda urged followers around the world to target vital interests of the United States, its allies and Israel.
Street protests were held Friday across the region. Marches were staged in Iran, Indonesia, Malaysia, Pakistan and Jordan.
In the Jordanian capital, Amman, hundreds of protesters chanted, "Jerusalem is Arab" and "America is the head of the snake."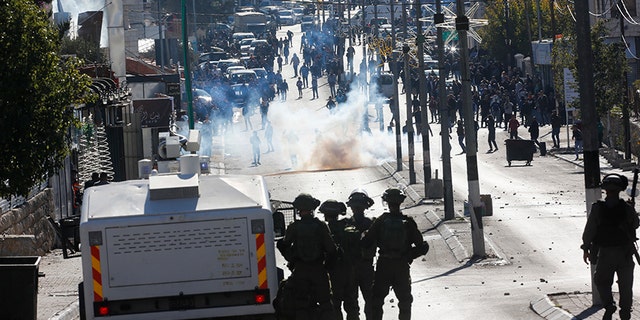 Worshippers at Al Aqsa mosque headed toward Jerusalem's Old City after Friday prayers, chanting, "Jerusalem is ours, Jerusalem is our capital" and "We don't need empty words, we need stones and Kalashnikovs," Sky News reported.
Security had been bolstered in expectation of violence, but by the evening the situation in the streets of the holy city appeared calmer than some had expected, according to Sky News.
"We don't need empty words, we need stones and Kalashnikovs."
The preacher at Al Aqsa told worshippers that the city would "remain Muslim and Arab."
"All we want from the Arab and Muslim leaders is action and not statements of denunciation," Sheikh Yousef Abu Sneineh said to some 27,000 worshippers.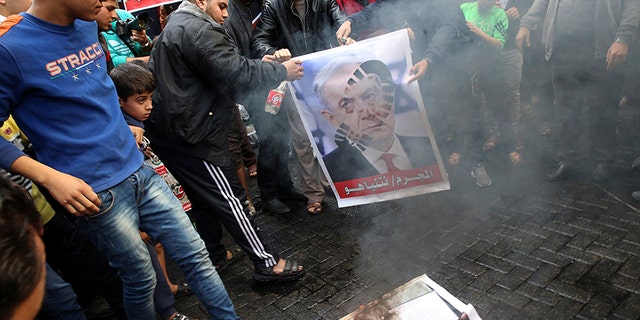 About 2,000 people later gathered in the plaza around the mosque, chanting, "With our soul and blood, we will defend Al Aqsa and Jerusalem."
For decades, the United States expressed a neutral view on Jerusalem's fate, in line with an international consensus that the fate of the holy city should be determined in negotiations.
The Associated Press contributed to this report.