'Trump baby' blimp gets OK to fly over London during Trump's visit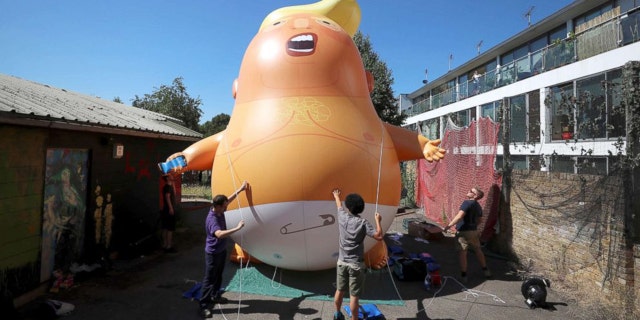 A blimp dubbed "Trump baby" will be allowed to fly over London next Friday during President Trump's visit to the United Kingdom after the city's mayor gave the green light for the stunt to occur.
The 19-foot balloon depicting Trump in an unflattering manner is expected to fly over the U.K. parliament July 13 during Trump's three-day trip. The office of London Mayor Sadiq Khan, a frequent Trump critic, on Thursday gave the approval for the balloon to fly.
"The Mayor supports the right to peaceful protest and understands that this can take many different forms," a spokesperson for the mayor said in a statement to Sky News. "His city operations team have met with the organizers and have given them permission to use Parliament Square Garden as a grounding point for the blimp."
UK REPORTEDLY TELLS TRUMP HE CANNOT MEET WITH BREXIT ARCHITECT NIGEL FARAGE
Calls for the blimp to fly began when a group, who describes itself as anti-fascist "art activists" proposed carrying out the protest. Thousands signed a petition and raised more than $22,477 to have the inflatable fly over London.
"Donald Trump is a big, angry baby with a fragile ego and tiny hands," the group wrote in a crowdfunding page. "…So when Trump visits the UK on Friday the 13th of July this year, we want to make sure he knows that all of Britain is looking down on him and laughing at him."
The balloon must be tethered to the ground from Parliament Square Gardens and cannot fly higher than 98 feet, Sky News reported.
Activist Leo Murray told Sky News the blimp is an "obscene mutant clone of" Trump.
UK PRIME MINISTER MAY UNDER PRESSURE TO CANCEL TRUMP VISIT OVER MIGRANT CONTROVERSY
Trump's U.K. visit is expected to be met with significant protests from left-wing activists, promoted by members of the left-wing Labour Party who have repeatedly called for Trump to be uninvited.
The U.S. president is expected to meet with U.K. Prime Minister Theresa May, who came under pressure from opposition lawmakers in late June to cancel President Trump's upcoming visit over his administration's controversial treatment of families caught illegally crossing the border.
A "Stop Trump" march is also expected to take place in central London next Friday.
Fox News' Adam Shaw contributed to this report.