Truck carrying elephants crashes in Spain, at least one animal killed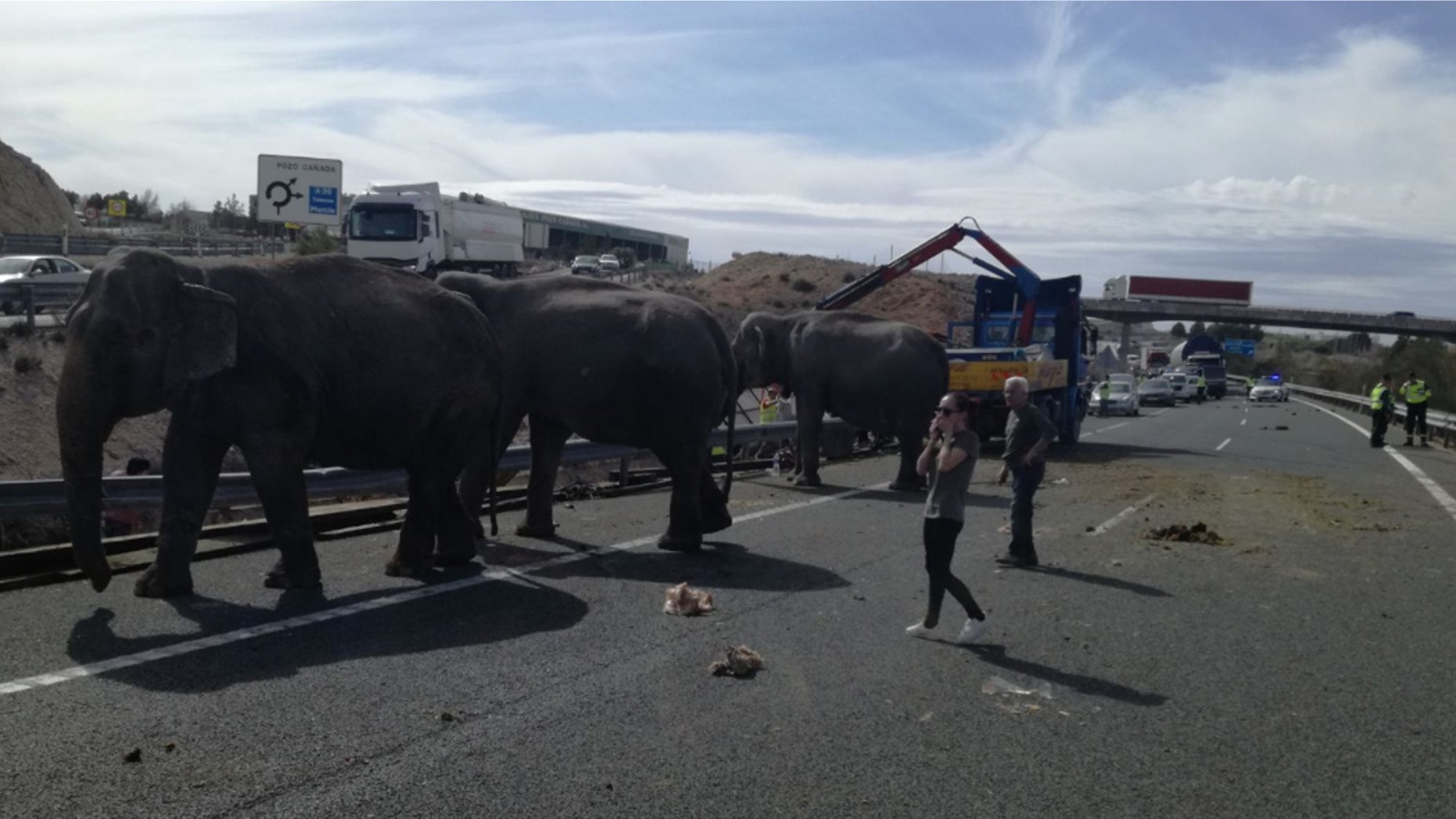 A truck carrying five elephants crashed on a highway in Spain on Monday, killing at least one of the majestic animals and leaving two injured.
The crash unfolded on highway A-30 near the town Pozo Cañada, located about 180 miles southeast of Madrid, police in Albacete tweeted.
The circus truck rolled past a barrier and into a ditch, Sky News added.
Photos posted by the law enforcement agency show three of the five elephants milling around in the lanes of the highway after the accident.
The director of the General Directorate of Traffic, an autonomous body under the Ministry of the Interior of Spain that's responsible for roads, tweeted the official count of those injured and killed.
Gregorio Serrano posted a video of authorities lifting one elephant into another truck after the crash.
The driver of the truck involved in the crash was not injured, officials told Europa Press.
Serrano said on Twitter that according to preliminary investigations, the accident happened after trying to pass another vehicle in the right lane.
Other photos and videos posted on social media show the elephants wandering around on the road with minor injuries.
People for the Ethical Treatment of Animals (PETA) responded: "Animals in circuses are caged and chained for the majority of their lives and forced to perform tricks under threat of punishment, which is why PETA asserts that the only way to ensure their safety is to end their use in circuses altogether. PETA is also calling for an examination by police of the driver's record and public disclosure of veterinary care for the surviving elephants."
Fox News' Mike Arroyo contributed to this report.