Tropical Cyclones Ravage Mexico, Leaving 38 Dead And Causing Heavy Damage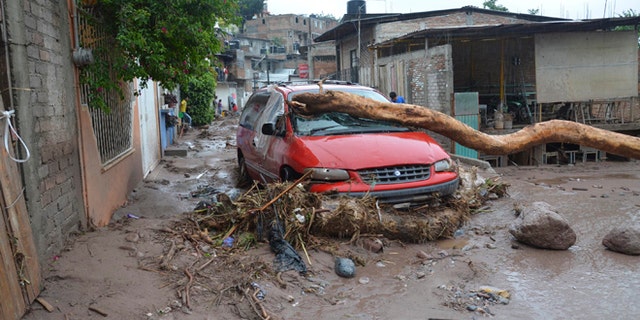 ACAPULCO, Mexico – Two major storms ravaged both of Mexico's coasts on Tuesday, stranding tens of thousands of tourists in the Pacific resort city of Acapulco on and producing heavy damage along the Gulf coast.
The death toll from the combined punch of Hurricane Ingrid and Tropical Storm Manuel rose from 34 to 38 overnight, according to Mexico's federal Civil Protection coordinator, Luís Felipe Puente.
As many as 60,000 tourists, many of whom traveled from Mexico City for a long holiday weekend, found themselves stranded in Acapulco, with the airport flooded and highways blocked by landslides and water caused by Manuel. Much of the city was without water or power service, and television images showed water knee-deep around the check-in counters of the city's airport.
Officials worked overnight in efforts to open the highway and airport, and food and relief supplies into the resort city of more than 800,000.
"It has been very difficult, because all means of access have been cut off," Puente told Televisa network.
President Enrique Peña Nieto toured the disaster zone on Monday and ordered efforts to reopen the highway that connects the port city to Mexico City.
The Guerrero state government said 40,000 tourists were stuck in the city, while the head of the local chamber of business owners said reports from hotels indicated the number could be as high as 60,000.
Natividad Gallegos, who lives in the low-income periphery of the city, said she returned from shopping Monday to find house buried by a landslide from a neighboring hill.
"When I got home I saw a lot of strangers with picks and shovels, digging where my house used to be," she said.
She said she lost six members of her family in the landslide, including her two children.
Jorge Luís Ramos Ezcurdia, 45, said he drove to Acapulco from Mexico City for the three-day Independence Day weekend with nine other people and found himself still unable to leave Tuesday morning, when all were supposed to be back at work. Instead, he was stuck at the boutique hotel where he had spent the weekend.
Remnants of Manuel continued to drench Mexico further up the Pacific coast and the U.S. National Hurricane Center said there was a chance it could regain force near the tip of the Baja California Peninsula.
Mexico's Gulf Coast states, meanwhile, were trying to recover from Hurricane Ingrid, which drove tens of thousands of people from their homes and blocked highways. That storm was dissipating over northeastern Mexico on Tuesday.
The Mexican government said the country had not seen a similar weather crisis since 1958, when it was simultaneously hit by two tropical storms, also on separate coasts.
The governor of the Gulf Coast state of Veracruz announced that 12 people died when a landslide smashed into a bus traveling through the town of Altotonga, about 40 miles northwest of the state capital.
More than 23,000 people fled their homes in the state due to heavy rains spawned by Ingrid, and 9,000 went to emergency shelters. At least 20 highways and 12 bridges had been damaged, the state's civil protection authority said.
Based on reporting by The Associated Press.
Follow us on twitter.com/foxnewslatino
Like us at facebook.com/foxnewslatino