Tributes for Laura Pollan, Cuban Human Rights Activist, Fill Cyberspace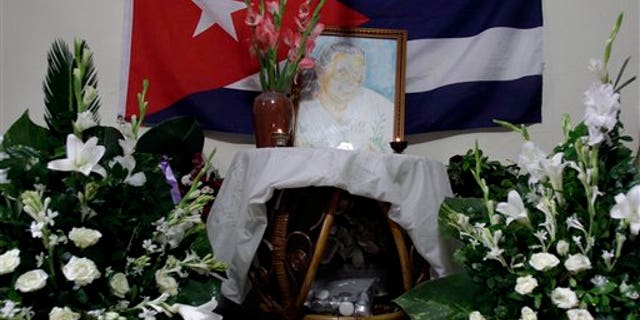 Laura Pollan was not a household name, but a day after the death of one of Cuba's leading human rights activists, Twitter teemed with tweets from celebrities, bloggers and politicians paying tribute.
They sent their condolences, remembered her life, and praised her courageous activism -- known best through the group she founded, "Ladies in White."
"We are truly sorry for the death of Laura Pollan, who led the Ladies in White in Cuba, rest in peace in Havana," tweeted Mariano Rajoy Brey, president of the People's Party in Spain.
Famous Cuban blogger Yoani Sanchez tweeted the news in Spanish yesterday from her home in Cuba: "Laura Pollan has just died."
Rep. Ileana Ros-Lehtinen, a Florida Republican and Cuban-American, tweeted: "Another voiced silenced by Castro's tyranny but the fight 4 freedom continues."
In 2003, the Cuban government struck with one of the biggest crackdowns on dissent in decades, arresting Pollan's husband and 74 other activists, social commentators and opposition leaders, accusing them of accepting money from the U.S. and other foreign sources for counterrevolutionary activities.
Known as the Group of 75, they received sentences ranging from six to 28 years, prompting international condemnation. The European Union froze relations with Cuba for more than a year.
The arrests sparked the creation of the Ladies in White, and began Pollan's transformation from activist's spouse to agitator in her own right.
Singer Gloria Estefan, a Cuban-American, paid homage not only to Pollan, but to Cuban women with her tweet.
"Laura Pollan, the personification of the strength of the Cuban woman, will live on in our hearts as a shining example of courage, peace and perseverance that will serve as a guide to those who struggle for a free Cuba!"
Former Florida House Majority Leader Adam Hasner, Republican, tweeted his tribute.
"We honor the life of Cuba's original 'Lady in White' Laura Pollan, one voice can make a difference in fight for freedom."
Young Cuban-Americans vowed to continue Pollan's mission.
"Many are bereft on the Island and abroad tonight," tweeted Aramis L. Perez of Florida. "We will continue to champion the free Cuba cause."
Follow Sandra E. Garcia on Twitter: @S_Evangelina
Follow us on twitter.com/foxnewslatino
Like us at facebook.com/foxnewslatino