Trial delayed for ex-Guatemalan dictator after he is sent to psychiatric hospital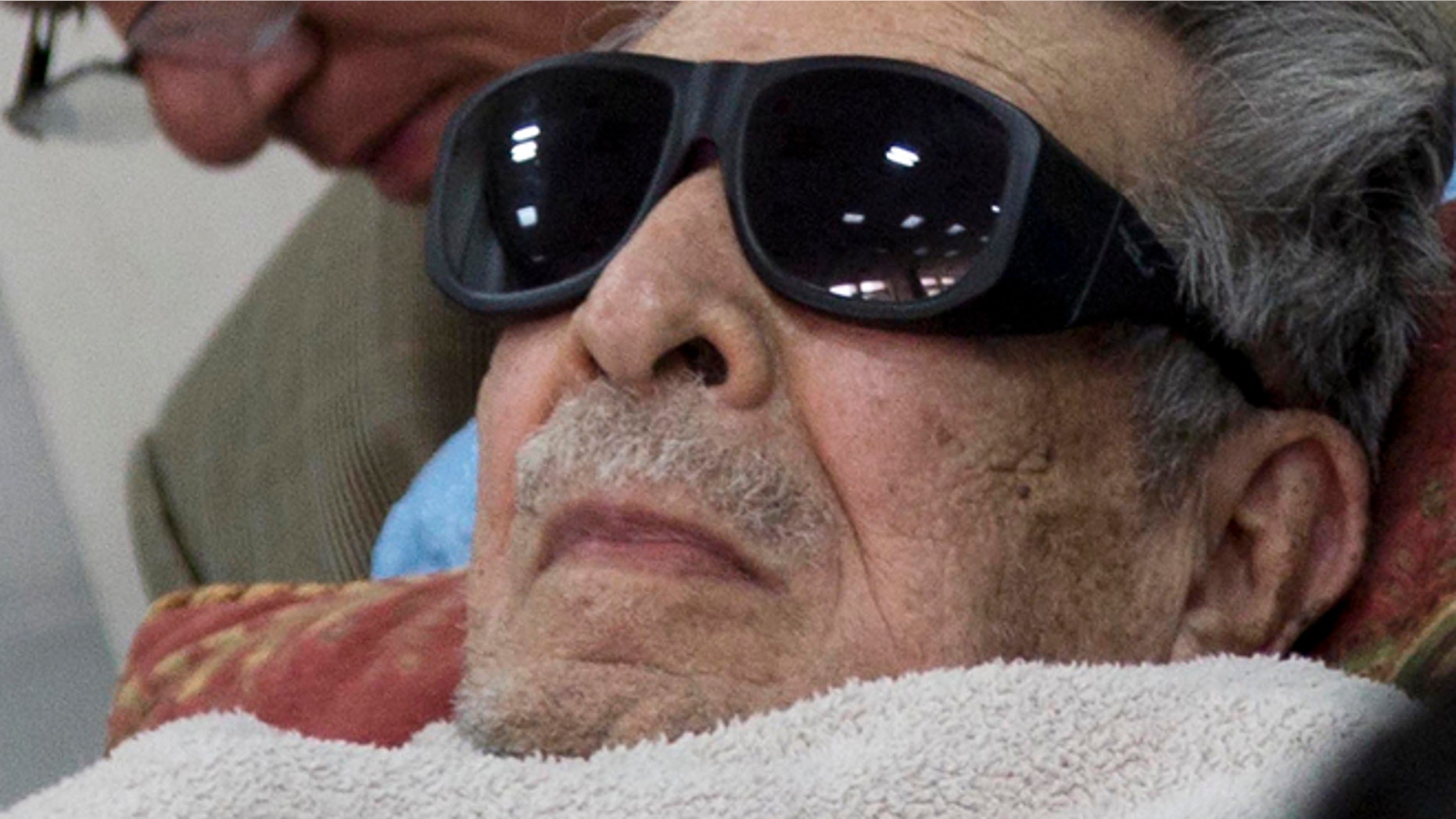 GUATEMALA CITY (AP) – A Guatemalan court ordered former dictator Efraín Ríos Montt put in a psychiatric hospital for nine days' observation on Thursday, once again delaying his retrial on genocide charges.
The court said its ruling aims to protect Ríos Montt's health and was based on a Public Ministry request as well as a report presented by the defense that found him incompetent to stand trial.
The 89-year-old ex-general is said to suffer from advanced dementia, and his lawyers have tried to block the prosecution from moving forward.
The court order seeks to evaluate his mental and physical state after it was established that his doctor has prescribed him psychiatric drugs. It ordered that his medical records seized and that a urine sample be taken within three hours to determine the nature of the medication.
Ríos Montt was not present for the hearing. Images from a camera at his house showed him lying on a bed underneath a white sheet.
Prosecutors accuse Ríos Montt of responsibility for the killing of 1,771 Mayan Ixil people at the hands of the army during his 1982-83 regime.
He was convicted of genocide and crimes against humanity and sentenced to 80 years in prison in 2013, but the verdict was overturned by a higher court. A retrial was postponed this January after his lawyers won a motion for one of the judges to recuse herself, and it was later rescheduled for Thursday.
But a recent medical report from Guatemala's National Institute of Forensic Sciences said Ríos Montt is unable to understand the charges against him or contribute to his defense, raising doubts about whether the retrial would move ahead.
It described Ríos Montt as "prostrate and motionless in bed," under the effects of medication, with a clouded awareness and in a near stupor. He responds only to intense stimuli such as loud speaking or physical touch, the report said.
Anselmo Roldan, president of the Justice and Reconciliation Association that represents victims of the conflict, questioned whether Ríos Montt's unresponsive state could be due to the medication rather than infirmity.
"We see that they have no desire for this trial to continue," Roldan said.
José Rodríguez, who was Ríos Montt's intelligence chief, is also accused in the case.
According to a U.N. report, about 245,000 people died or disappeared during Guatemala's 1960-96 civil war. The army and paramilitary groups are blamed for nearly all the killings.