Traffic-Stop Recordings Found In Former Arpaio Deputy's House Linked To Racial-Profiling Case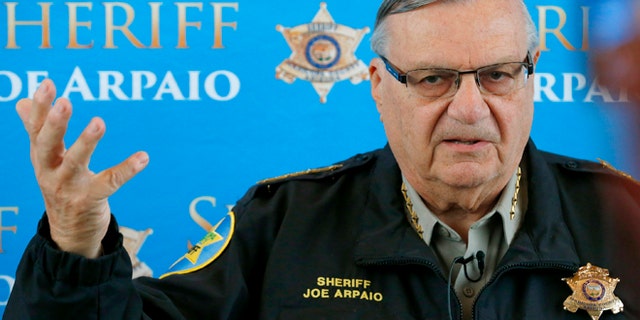 PHOENIX (AP) – Hundreds of hours of recorded traffic stops were found inside the home of a former Maricopa County sheriff's deputy before his death in an apparent suicide, an attorney said Friday in revealing another potentially troubling discovery connected to the officer.
Authorities previously found evidence from criminal cases, a collection of IDs and illegal drugs in the home of former Deputy Ramon Charley Armendariz. On Friday, about 900 hours of recordings by Armendariz of his stops of motorists were publicly revealed in a racial-profiling case against Sheriff Joe Arpaio's office. The recordings were the subject of a nearly two-hour closed-door meeting in federal court on Wednesday.
In a transcript of the hearing released at the end of the business day Friday and viewed by The Associated Press, Arpaio's lawyer Tim Casey said a criminal investigation has been launched that may lead to other sheriff's employees on charges such as witness tampering and obstruction. Casey also provided new inventory of the types of IDs that the deputy had in his home, including about 200 driver's licenses, five U.S. immigration cards, 104 license plates and four foreign passports. The licenses included 153 from Arizona and another 50 from other states and Mexico.
Dan Pochoda, one of the attorneys pressing the profiling case against Arpaio, said the recordings that Armendariz voluntarily made of his traffic stops from a camera he wore on his glasses should have been turned over to opposing attorneys at trial, but they weren't.
Pochoda said the sheriff's office has reviewed 250 of the recordings and has found what was described as problematic behavior by Armendariz that he declined to specify. Pochoda said Armendariz had recorded between 2,500 to 5,000 traffic stops.
"He appears to be a tainted officer," Pochoda said.
Armendariz was found dead May 8 from an apparent hanging at his west Phoenix home. About a week before his death, Armendariz was arrested on a charge of drug possession after he reported a burglary in progress on April 30 at his home. No burglars were found, and investigators believe he was either under the influence of drugs or having a manic episode. He resigned after his arrest.
Days later, police went to the home again after friends of Armendariz became concerned that he was threatening to harm himself. After a nearly nine-hour barricade situation, he surrendered peacefully and was taken to a psychiatric center. He was found dead after he failed to get an electronic ankle monitor ordered as a condition of his release from jail.
Arpaio issued a statement saying his office took immediate action once learning of the problems related to Armendariz. "I stand by the fact that the vast majority of my employees are professional and dedicated, with a willingness to serve the citizens of Maricopa County," Arpaio said.
Pochoda said the recordings will be turned over to county and federal prosecutors. Maricopa County Attorney Bill Montgomery this week acknowledged that several cases will have to be revisited because of a situation brought on by Armendariz that he described as a "mess."
Armendariz's recordings will be turned over to a court-appointed official who is helping U.S. District Judge Murray Snow monitor the sheriff's office, Pochoda said.
Nearly a year ago, Snow ruled the sheriff's office has systematically racially profiled Latinos in its immigration and regular traffic patrols. Armendariz was a witness in the case.
Arpaio denies that his agency profiles people and has appealed the ruling.
In response to the racial-profiling ruling, Snow is now requiring the sheriff's office to install video cameras in hundreds of the agency's patrol vehicles.
Pochoda said there was no such camera requirement before the profiling ruling and that sheriff's deputies at that point could have voluntarily recorded their stops of motorists. It's not known how many other deputies made such recordings.
Follow us on twitter.com/foxnewslatino
Like us at facebook.com/foxnewslatino