Tougher rules urged after deadly Canada rail disaster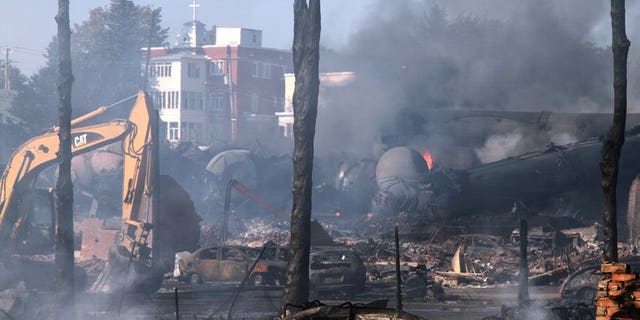 OTTAWA (AFP) – Canada's main opposition party called Thursday for tougher rail-industry regulations after a weekend derailment and explosion in a small Quebec town that left 50 people dead or missing.
The New Democratic Party (NDP) notably pressed Prime Minister Stephen Harper's Conservative government to set a deadline for phasing out the use of DOT-111 tank cars in the transport of hazardous materials.
It also urged the end of the current practice of having a single engineer aboard a train "when dangerous goods are being transported."
Part of a train made up of 72 tank cars loaded with crude oil derailed in the early hours of Saturday in Lac-Megantic, near the Quebec-Maine border, igniting a huge explosion that laid waste to the center of the lakeside town.
Twenty people have been confirmed dead and 30 remain unaccounted for with little hope of being found alive, Quebec provincial police said Wednesday, as accident investigators continued to comb the rubble.
The train was hauling crude oil from North Dakota via Montreal and the northern part of Maine to a refinery in the Canadian Maritime province of New Brunswick.
The head of the US-owned Montreal Maine and Atlantic Railway has faulted the train's engineer for failing to properly set the hand brakes before it raced out of control down the tracks into Lac-Megantic.
Canada's Transportation Safety Board says the DOT-111 tank car is widely used by railways across North America to carry products as varied as corn oil and petroleum products.
But critics say their single-wall construction -- compared to double-walled propane tank cars -- make them vulnerable to puncture and spillage in the event of an accident.
Canadian Transport Minister Denis Lebel has said that 350,000 of the half-million rail tank cars on Canadian and US railways are DOT-111 models which can typically carry 100 tons of oil each.