Toronto shooting suspect identified as Faisal Hussain, family says he had 'severe mental health challenges'
NEWYou can now listen to Fox News articles!
Canadian authorities identified the gunman who killed two people and injured 13 others in a lively Toronto neighborhood Sunday night as 29-year-old Faisal Hussain, whose family claimed had suffered from "severe mental health challenges."
The Special Investigations Unit of the Ontario Provincial Police said a member of Hussain's immediate family and a "family representative" confirmed the gunman's identity.
Moments after Hussain's identity was released, his family issued a statement to multiple media outlets saying he had been "struggling with psychosis and depression his entire life."
"The interventions of professionals were unsuccessful," the statement read in part. "Medications and therapy were unable to treat him. While we did our best to seek help for him throughout his life of struggle and pain, we could never imagine that this would be his devastating and destructive end."
Authorities say Hussain fired a handgun into restaurants and cafes in Toronto's Greektown neighborhood before dying amid an exchange of gunfire with police. A 10-year-old girl and an 18-year-old woman were killed.
Earlier Monday, Toronto Police Chief Mark Saunders said he would not speculate on a motive but did not rule out terrorism. Toronto Councilor Paula Fletcher said the attack was "not gang related" and that the gunman shot "indiscriminately" into restaurants and into a park.
The murdered 18-year-old was identified as Reese Fallon, a recent high school graduate who volunteered for Canada's Liberal party and was due to attend McMaster University in the fall. Her family members said in a statement that they were devastated.
"She was ... smart, passionate and full of energy. It is a huge loss," said a member of the Canadian Parliament, Nathaniel Erskine-Smith, who knew Fallon.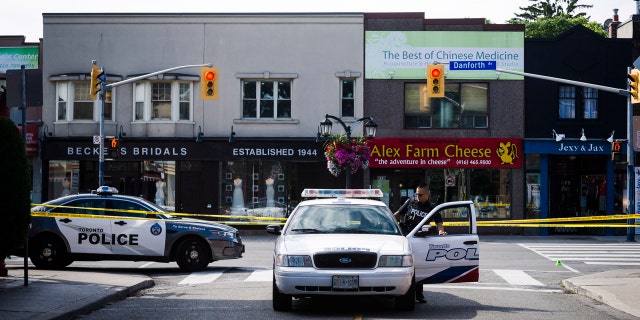 Flags at Toronto City Hall, as well as at Fallon's former high school, Malvern CI, and at school board buildings were lowered to half-staff.
"An engaging student, Reese Fallon graduated from Malvern CI just last month and was highly regarded by staff and loved by her friends," the school board said in a statement, adding that support was being offered to students.
The 13 wounded ranged in age from 10 to 59, and suffered injuries ranging from serious to minor, Saunders said. He did not name the victims, who included eight women and girls, and seven men.
Dr. Najma Ahmed of St. Michael's Hospital said five patients had been admitted in serious or critical condition and that three of the five underwent immediate lifesaving operations.
Dr. Paul Hannam of Michael Garron Hospital said the facility had treated seven people in connection with the shooting, two of whom had suffered gunshot wounds. Five patients were treated and released, while two patients were in stable condition and continuing to receive treatment.
A video taken by a witness showed a man dressed all in black walking quickly down a sidewalk and firing three shots into at least one shop or restaurant in Toronto's Greektown, a residential area crowded with Greek restaurants and cafes.
Witnesses heard many shots and described the suspect walking past restaurants and cafes and patios on both sides of the street and firing into them.
Ontario's police watchdog said there was an exchange of gunfire between the assailant and two officers on a side street before the gunman was found dead near Danforth Avenue where the shootings occurred. It was not immediately clear whether he killed himself or was killed by police.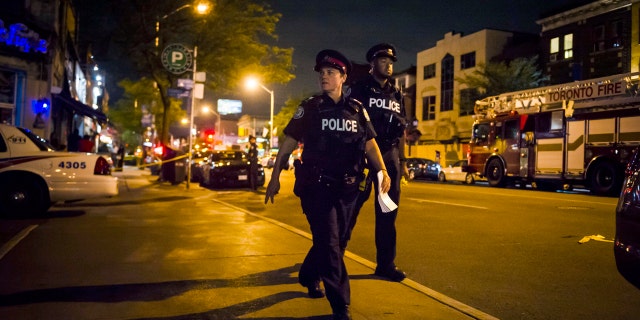 A post-mortem on Hussain will be conducted Tuesday in Toronto.
Though mass shootings are rare in Canada's largest city, Toronto police had deployed dozens of additional officers over the weekend to deal with a recent rise in gun violence in the city, which has seen 23 gun homicides so far this year, compared to 16 fatal shootings in the first half of 2017.
In April, the driver of a van plowed into pedestrians on a Toronto sidewalk, killing 10 people and injuring 14. Authorities have not disclosed a motive, but said the arrested driver, Alek Minassian, posted a message on social media referencing a misogynistic online community before the attack.
A now-deleted Facebook post indicated anger toward women and saluted Elliot Rodger, a community college student who killed six people and wounded 13 in shooting and stabbing attacks near the University of California, Santa Barbara, in 2014.
"The Incel Rebellion has already begun!" read the post, using the term incel to refer to "involuntarily celibate."
Meanwhile, Ottawa police arrested a 24-year-old man with a knife on Monday during the Changing of the Guard on Parliament Hill in Ottawa. No one was injured. It was unclear if the incident was related to the mass shooting in Toronto.
The Associated Press contributed to this report.