Top Syrian army general killed while on duty, state TV says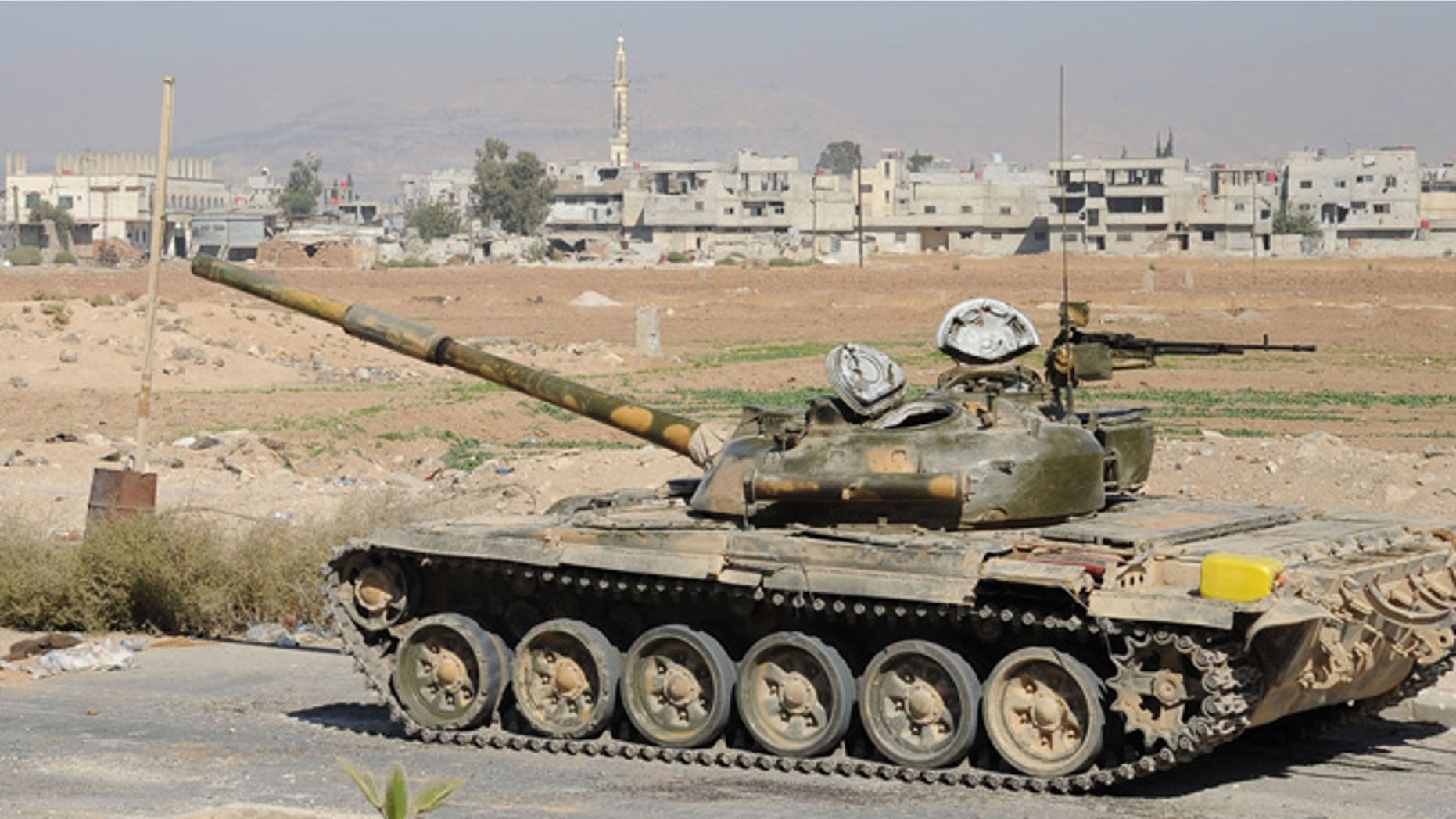 BEIRUT – A top Syrian army general has been killed in fighting with rebels, state-run Syrian television reported Thursday, as the country's deputy prime minister floated Nov. 23-24 as possible dates for talks on a political solution to the conflict.
The television report said Gen. Jameh Jameh was killed while on duty in eastern Syria. It said Jameh, who was the head of the military intelligence directorate in the eastern province of Deir el-Zour, was killed by rebels in the provincial capital that carries the same name.
Jameh was one of the most powerful Syrian army officers in the country and played a major role in Lebanon when Damascus dominated its smaller neighbor.
The TV report did not say when Jameh was killed. It said he died "while he was carrying out his mission in defending Syria and its people."
The city of Deir el-Zour has witnessed clashes between troops and rebels for more than a year.
Meanwhile, Qadri Jamil, the Syrian deputy prime minister, said Thursday that "we are closer than ever" to talks in Geneva. "In our contact with the (Russian) Foreign Ministry, we were informed about the approximate and hypothetical dates for holding it," he said.
Russia's RIA Novosti news agency quoted him as saying "the conference will be held on the 23rd and 24th of November."
Alexander Lukashevich, a spokesman for the Russian Foreign Ministry, would not confirm or deny that the dates were being considered.
U.N. Secretary-General Ban Ki-moon said Wednesday that efforts are intensifying to try to hold the Geneva meeting in mid-November. Ban did not provide specific dates, and it's not clear whether the schedule provided by Jamil has been agreed to by any other parties.
The talks have been put off repeatedly, in part because of fundamental disagreements over the fate of Syrian President Bashar Assad.
The Western-backed Syrian National Coalition, the main alliance of political opposition groups, has said it will only negotiate if it is agreed from the start that Assad will leave power at the end of a transition period. Many rebel fighters inside Syria flatly reject negotiating with Assad's regime
The regime has rejected such a demand, saying Assad will stay at least until the end of his term in mid-2014, and he will decide then whether to seek re-election. The regime has said it refuses to negotiate with the armed opposition.
The United States and Russia have been trying to bring the Damascus government and Syria's divided opposition to negotiations in Geneva for months, but the meeting has been repeatedly delayed. It remains unclear if either side is really willing to negotiate while Syria's civil war, now in its third year, remains deadlocked.
Also Thursday, the international agency overseeing the destruction of Syria's chemical weapons stockpile said that inspectors have so far found no "weaponized" chemical munitions, or shells ready to deliver poison gas or nerve agents, and that Syria's declarations up to now have matched what inspectors found.
The Organization for the Prohibition of Chemical Weapons and the United Nations are working to verify Syria's initial declaration of its weapons program and render production and chemical mixing facilities inoperable by Nov. 1. Their work on the ground involves smashing control panels on machines and destroying empty munitions.
The team has visited 11 of more than 20 sites since Oct. 1 and carried out destruction work at six. "Cheap, quick and low-tech. Nothing fancy," OPCW spokesman Michael Luhan said of the work.
In the next phase, the work gets more complex and dangerous when actual chemical weapons have to be destroyed — in the midst of full-blown war. Negotiations are still underway as to how and where that will happen.
Syria's revolt began in March 2011 with largely peaceful protests against the Assad regime before eventually turning into a civil war. The conflict has killed more than 100,000 people, forced more than 2 million to flee the country and left some 4.5 million others displaced within the country.
It has also proven difficult and dangerous for journalists to cover, and press freedom advocate groups rank Syria as the most dangerous country in the world for reporters. Dozens of journalists have been kidnapped and more than 25 have been killed while reporting in Syria since the conflict began.
On Thursday, Sky News Arabia said that a team of its reporters had gone missing in the contested city of Aleppo. The Abu Dhabi-based channel said it lost contact on Tuesday morning with reporter Ishak Moctar, a Mauritanian national, cameraman Samir Kassab, a Lebanese national, as well as their Syrian driver whose name is being withheld at his family's request.
Sky News Arabia chief Nart Bouran says the crew was on assignment primarily to focus on the humanitarian aspects of the conflict in Aleppo. The channel appealed for any information on the team's whereabouts and for help to ensure the journalists' safe return.