Tokyo Electron shares soar on US merger deal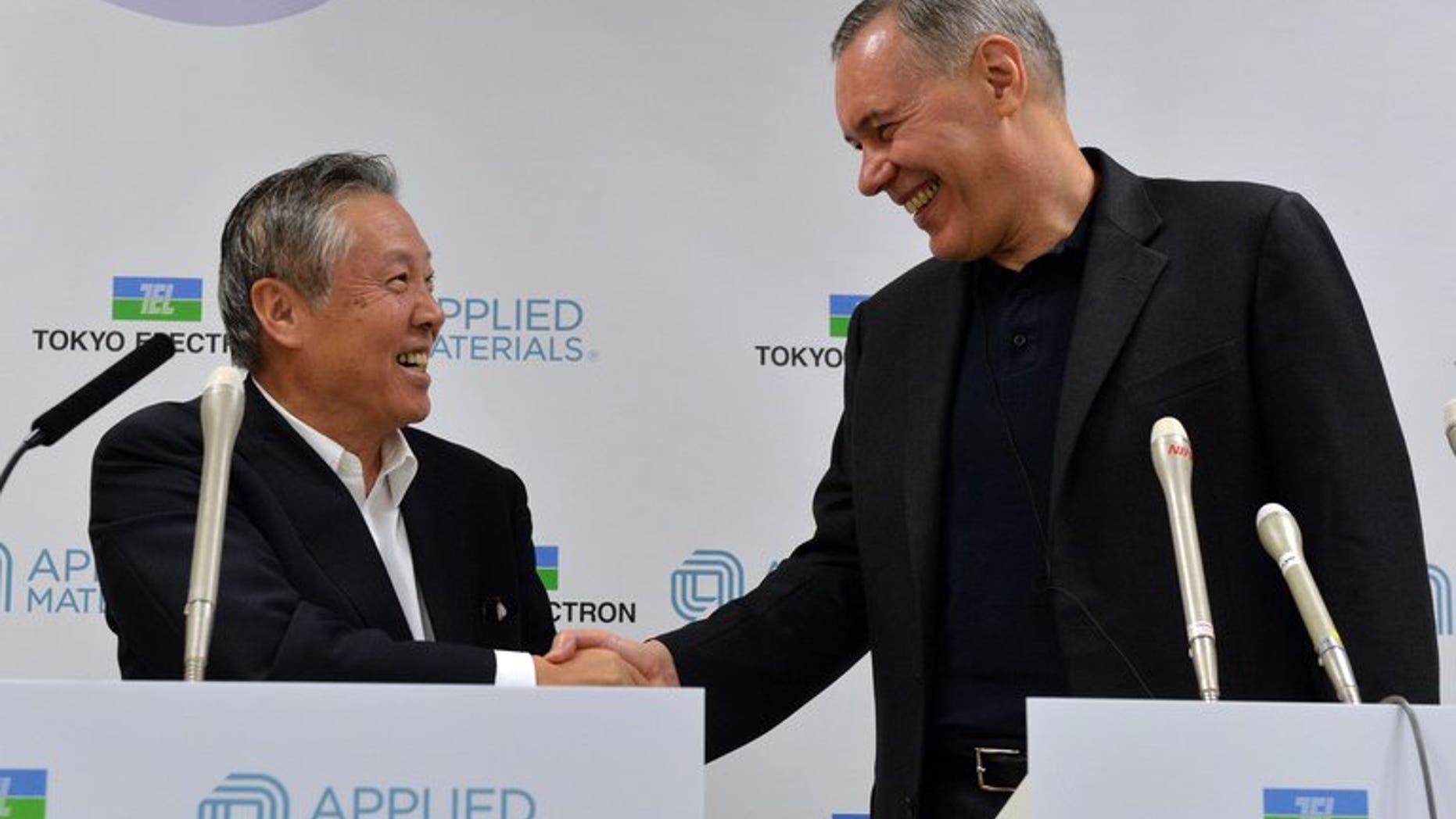 TOKYO (AFP) – Tokyo Electron shares soared around 14 percent Wednesday morning on news of a multi-billion dollar merger between the Japanese chip and panel giant and US-based Applied Materials.
Investors cheered the corporate marriage announced late Tuesday to create a $29 billion firm, which the companies said would slash costs and better meet customer needs on the back of surging demand for mobile gadgets, such as smart phones and tablet computers.
The deal is slated to close next year pending regulatory approval, they said.
Tokyo Electron's stock jumped 13.60 percent to 5,510 yen ($56) in morning trade on Japan's biggest stock exchange, with the US firm's shares up about 9.0 percent on Wall Street overnight.
However, the merger appeared more like a takeover by Applied Materials with the US firm's shareholders to own about 68 percent of the new company, while 32 percent would go to Tokyo Electron stockholders.
The new company's headquarters will be located both in Santa Clara, California and Tokyo. It would be incorporated in the Netherlands.
Efforts to paint the deal as a merger of equals may have been aimed at selling the tie-up in Japan where foreign takeovers of domestic firms -- particularly a major corporate name such as Tokyo Electron -- are extremely rare.
The firms, which produce tools to make semiconductors and display panels, count US-based chip giant Intel and South Korea's Samsung as customers.
Nomura Securities analyst Tetsuya Wadaki said the merger could give both companies more muscle in negotiating deals with customers.
Semiconductor production equipment makers "have been seeking to change their business model to one based on services/maintenance or the collection of fees, from one based only on the sale of equipment", Wadaki told Dow Jones Newswires.
"The burden of negotiating this change to the sales platform with customers has become too great for any one company to bear on its own."