To counter North Korea, South Korea seeks weaponized drones, report says
South Korea is reportedly looking to weaponized drones in a bid to counter the North's nuclear and missile programs, which are advancing so quickly Kim Jong Un stands on the precipice of declaring them completed.
The new weapon being developed by the South Korean army will be called a "dronebot" — combining the words "drone" and "robot," a South Korean Army official told Yonhap News Agency.
"The Army plans to set up a special organization to lead the development of dronebots, establish a standard platform and expand the dronebot program by function," the official told Yonhap. "To begin with, we will launch a dronebot combat unit next year and use it as a 'game changer' in warfare."
The dronebots will inspect North Korea's nuclear and missile sites and will be mobilized in case of an attack.
As the countries develop new weapons to bolster defense capabilities amid the mushrooming crisis, U.S. and South Korea continued on Tuesday a joint military drill named Vigilant Ace -- a five-day exercise with more than 230 aircraft flying at eight U.S. and South Korean military installations in the South, including the largest number of stealth fighter jets partaking in the annual exercise. About 12,000 U.S. military personnel are participating in the drill that began Monday.
North Korea last week launched an intercontinental ballistic missile that reached a height of 22,796 miles and traveled 596 miles before landing in the Sea of Japan. The regime called the Hwasong-15 its "greatest ICBM" and said it was "significantly more" powerful than previous iterations and could be armed with a "super-large nuclear warhead."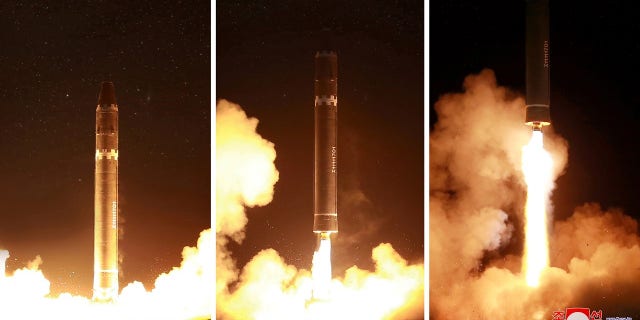 Kim later claimed North Korea had completed its nuclear program with the launch, but a U.S. official told Fox News on Saturday the ICBM did not survive re-entry into the Earth's atmosphere — a feat Pyongyang has been trying to perfect. Without a successful re-entry, North Korea's ICBM could not make impact on U.S. soil even if it had the ability to reach American cities.
But a South Korean unification ministry official said Kim is most likely still going to declare his country a "state nuclear force" in a New Year's Day address.
"After that, the North may unveil its stance on how to carry out the so-called 'byongjin policy,'" the official told Yonhap News Agency.
The "byongjin policy" is referring to Kim's agenda of seeking nuclear armament and economic growth to allow North Korea to prosper.
South Korea rejects North Korea's claim it is a complete nuclear force and doubts the extent of the North's ICBM capabilities.