Timeline: President's Donald Trump's rocky road to UK visit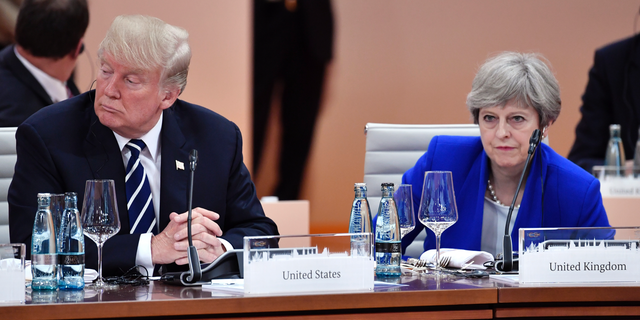 LONDON – President Donald Trump will be arriving Thursday in Britain, his first visit since becoming president. He will meet with Prime Minister Theresa May and Queen Elizabeth II before spending the weekend at one of his golf clubs in Scotland. Trump has angered many in Britain in the last two years with a series of actions and pronouncements and many protests are expected.
Here is a look at some of these developments:
January 19, 2016: Britain's lawmakers debate a proposal to ban Trump, a Republican presidential candidate, from Britain. The debate was prompted by a petition signed by roughly half a million people calling for his exclusion after he proposed a temporary ban on Muslims entering the United States. Trump was heavily criticized but there was no vote and no ban was imposed.
May 10, 2016: Newly elected London Mayor Sadiq Khan says Trump's "ignorant view of Islam could make both our countries less safe" after Trump suggests that Khan, who is a Muslim, could be an exception to his proposal to ban Muslims from coming to the United States.
January 27, 2017: Theresa May meets with Trump in the Oval Office one week after he was inaugurated and extends an invitation to a state visit that would be hosted by the queen in her role as head of state. May becomes the first foreign leader to meet with the new president.
February 20, 2017: Thousands of anti-Trump protesters rally outside Britain's Parliament while lawmakers inside urge the government to rescind its offer to the president of a state visit stamped with pomp, pageantry and royal approval.
November 29, 2017: Trump angers British leaders by retweeting unverified, anti-Islamic videos from Britain First, whose leaders have since been convicted of hate crimes.
January 12, 2018: Trump cancels a planned visit to London to open the new U.S. Embassy, calling it a bad deal in a poor location.
May 4, 2018: Trump tells an NRA convention in Dallas that Britons are losing the battle against knife crime. "They don't have guns. They have knives and instead there's blood all over the floors of this hospital. They say it's as bad as a military war zone hospital ... knives, knives, knives." This claim is rejected by British physicians and lawmakers.
July 5, 2018: The Greater London Authority and the mayor give protesters permission to fly a 20-foot tall balloon depicting Trump as an angry baby in a diaper from Parliament Square for two hours during Trump's July 13 visit.
July 12: 2018: Trump is scheduled to arrive for a three-day visit to the London area and Scotland before flying to Helsinki for a summit with Russian President Vladimir Putin.