Thousands rally in Pakistan for girl shot by Taliban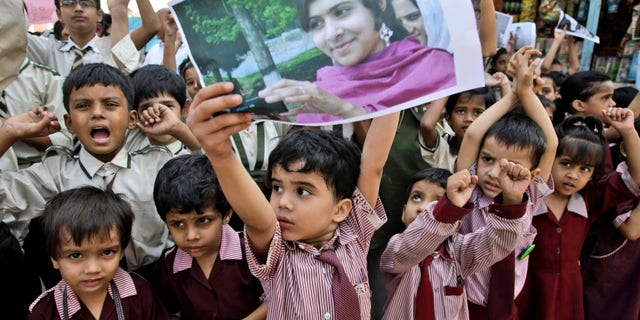 ISLAMABAD – Thousands rallied in support of a 14-year-old Pakistani girl shot and wounded by the Taliban for criticizing the militant group and promoting girls' education.
The demonstration in the southern city of Karachi on Sunday was the largest by far since Malala Yousufzai and two classmates were shot Oct. 9 while returning home from school in the Swat Valley.
The rally was organized by the most powerful political party in Karachi, the Muttahida Quami Movement. The party's chief, Altaf Hussain, addressed the audience by telephone from London, where is he in self-imposed exile.
Hussain called the Taliban gunmen who attacked Yousufzai "beasts" and said the shooting was an attack on "the ideology of Pakistan."
The Taliban have claimed responsibility for the shooting, saying that the girl was promoting "Western thinking."
Even before the Taliban took over the Swat Valley, Fazlullah's radio broadcasts spread fear among residents in the area. The group first started to exert its influence in 2007 and quickly extended its reach to much of the valley by the next year. They set about imposing their will on residents by forcing men to grow beards, preventing women from going to the market and blowing up many schools -- the majority for girls.
Malala wrote about these practices in a journal for the BBC under a pseudonym when she was just 11. After the Taliban were pushed out of the valley in 2009 by the Pakistani military, she became even more outspoken in advocating for girls' education. She appeared frequently in the media and was given one of the country's highest honors for civilians for her bravery.
Pakistanis held services to pray for Yousufzai's recovery Friday.
Demonstrators carried banners and pictures of the young girl.
The Associated Press contributed to this report.