The Princess And The Subpoena: Spanish King's Daughter To Be Questioned In Court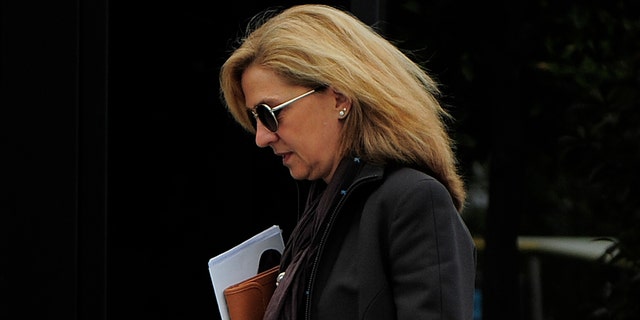 MADRID (AP) – A Spanish court on Tuesday subpoenaed Princess Cristina, the daughter of Spain's King Juan Carlos, as a suspect in an investigation of alleged tax fraud and money laundering — the latest blow to the royal family's reputation.
Palma de Mallorca court investigating magistrate Jose Castro ordered the 48-year-old princess to appear March 8 for questioning about her partnership with her husband Inaki Urdangarin in a firm called Aizoon.
Urdangarin is already under investigation for allegedly using his position to embezzle several million dollars in public contracts assigned to the Noos Institute, a supposedly nonprofit foundation he set up, and channel the funds to other business, among them Aizoon.
Last year, the court canceled a subpoena for the princess to answer questions about the Noos case but said she could still be called to answer questions regarding possible tax fraud and money laundering as the investigation proceeded.
The 2013 summons had been a first for a member of the king's immediate family.
Neither the princess nor her husband has been formally charged with any crime. Any charges would come at the end of the investigation if the investigating magistrate decides there is sufficient evidence for a trial, court spokeswoman Maria Ferrer said.
The probes have seriously damaged the image of 76-year-old Juan Carlos — once one of Spain's most respected figures — and eroded Spaniards' admiration for their royal family, especially as the investigations have coincided with a severe economic crisis that has widened the gap between rich and poor.
In Tuesday's court document, Judge Castro described the accounting at Aizoon as "opaque" and said the princess did not declare her earnings from the company. He added that the princess appeared to have maintained an attitude of "looking the other way" in her husband's business affairs.
Cristina is the youngest of the king's two daughters. She works for the Caixa bank's social and cultural foundation and is currently based in Geneva.
Urdangarin is a former professional handball player and an Olympic medalist for Spain. The deals he and his Noos business partner brokered included organizing seminars and sports events as a tourism lure. However, some events were allegedly charged for but never took place or were charged at unusually high rates.
The royal family sidelined Urdangarin from all official royal activities in 2012 and later removed him from the family website.
Comment from the Royal Palace was not immediately available Tuesday.
Follow us on twitter.com/foxnewslatino
Like us at facebook.com/foxnewslatino