The Latest: US urges China to use oil leverage on NKorea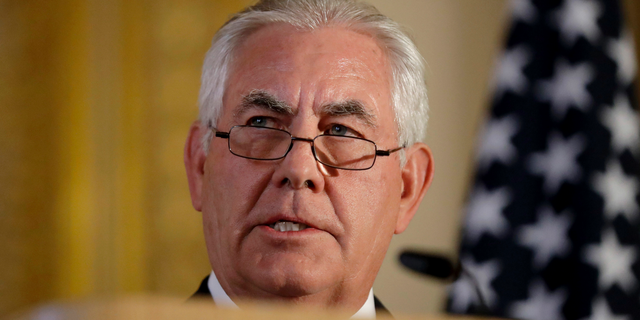 NEWYou can now listen to Fox News articles!
LONDON – The Latest on U.S. Secretary of State Rex Tillerson's trip to London (all times local):
6:05 p.m.
U.S. Secretary of State Rex Tillerson is urging China to use its leverage as North Korea supplier of oil to get the North to "reconsider" its development of nuclear weapons.
The United States has sought an embargo on oil imports to North Korea at the U.N. Security Council in response to North Korea's most powerful nuclear test to date.
But the U.N. has agreed to weaker measures against the North — although the U.N. is banning ban textile exports, an important source of its revenue for the North.
Tillerson says it was going to be "very difficult" to get China to agree to an oil embargo. Still he's urging China as a "great country and a world power" to use its leverage as the supplier of virtually all North Korea's oil.
___
10:25 a.m.
U.S. Secretary of State Rex Tillerson is holding talks in London with British and French officials on North Korea's nuclear and missile programs.
The U.S., Britain and France are permanent members of the U.N. Security Council, and the council this week approved new sanctions to punish North Korea's latest nuclear test explosion.
The officials also intend to discuss the response to Hurricane Irma, which struck the southeastern United States and the Caribbean.
And expect the situation in Libya to come up during talks with representatives from the U.N., Italy, Egypt and the United Arab Emirates.
It's Tillerson's second visit to Britain since taking office in February.