The Latest: Russia says Assad's future is Syria's business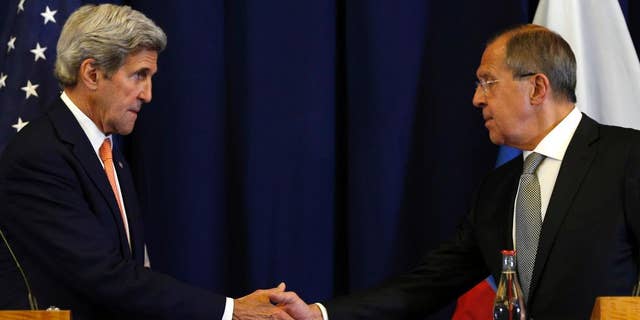 NEWYou can now listen to Fox News articles!
BEIRUT – The Latest on developments in Syria, where a cease-fire brokered by the U.S. and Russia has been holding since coming into effect earlier this week (all times local):
11:30 p.m.
Russia's deputy foreign minister says the future of President Bashar Assad is an internal Syrian issue and the U.S.-Russia Syria agreement does not deal with it.
Assad has been accused of war crimes in the Syrian civil war and his opponents inside and outside the country have insisted that his departure is a prerequisite for a peace settlement.
Russian Deputy Foreign Minister Mikhail Bogdanov said in an interview with the RIA Novosti news agency on Friday that Assad's future is "purely Syrian business" and that the cease-fire deal that the United States and Russia signed last week did not discuss Assad's future in any way
___
11:00 p.m.
A Syrian activist says Russian troops have deployed along a main road leading into besieged rebel-held neighborhoods of the northern city of Aleppo ahead of the possible arrival of aid convoys.
Rami Abdurrahman of the Britain-based Syrian Observatory for Human Rights says the Syrian government forces that were stationed there have been replaced by Russian troops. He says aid is expected to enter rebel-held Aleppo later Friday.
Aleppo-based activist Bahaa al-Halaby denies that government troops withdrew from Castello road.
Aid deliveries are part of a U.S.-Russia deal that imposed a cease-fire, which started Monday.
Russia's military announced Thursday evening that Syrian government forces had begun withdrawing from Castello road but did not confirm if Russian troops would be stationed there. The Pentagon said it had no indication of a withdrawal.