The Latest: Kenya opposition leader in mock 'inauguration'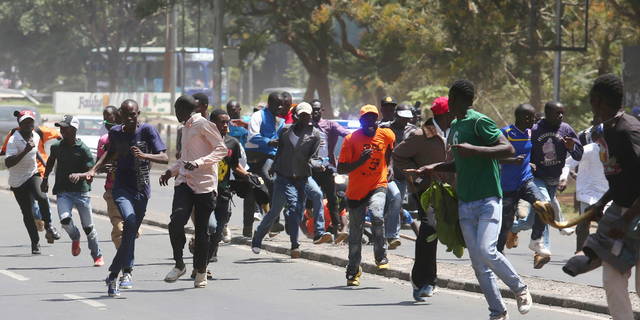 NEWYou can now listen to Fox News articles!
NAIROBI, Kenya – The Latest on Kenyan opposition's mock "inauguration" (all times local):
3:15 p.m.
Kenyan opposition leader Raila Odinga has been sworn in during a mock "inauguration" as "the people's president" despite the government's warning that the event would be considered treason.
Thousands have gathered in a Nairobi park for the ceremony meant to protest President Uhuru Kenyatta's new term after months of deadly election turmoil.
Odinga held a Bible over his head. "Today is a historic day in the history of Kenya," he said.
The opposition successfully challenged the August election in court, claiming vote-rigging, but boycotted a fresh election in October, claiming a lack of electoral reforms.
Kenya's government cut transmission of three TV channels airing live broadcasts of the "inauguration" Tuesday.
___
11 a.m.
Streets are quiet in the central business district of Kenya's capital ahead of the opposition's plan to "swear in" its leader, Raila Odinga, as an alternative president despite the attorney general's warning that such an act challenging the official president will amount to treason.
The U.S. has advised Odinga against the so-called inauguration Tuesday, as East Africa's economic hub tries to move beyond months of deadly election turmoil. Police have vowed to block opposition supporters from attending the event.
Heavy police deployment was withdrawn Tuesday without explanation at the Uhuru Park where the opposition had said the event would take place. A heavy police presence remains in city slums, which are opposition strongholds.