The Latest: Hungary: Bulgaria-Turkey border key to EU future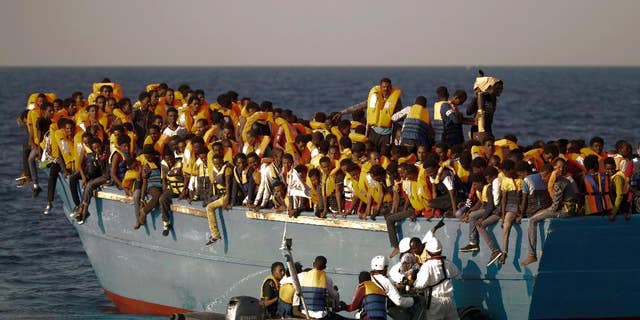 NEWYou can now listen to Fox News articles!
BRUSSELS – The Latest on Europe's migration crisis (all times local):
11:25 a.m.
Hungary's anti-migration prime minister says the future of the European Union will be decided at Bulgaria's border with Turkey, not in Brussels, and is urging the EU to provide more money to Bulgaria to help boost its border defense.
Prime Minister Viktor Orban and Bulgarian counterpart Boiko Borisov inspected a fence topped with razor wire in the Bulgarian border village of Lesovo on Wednesday, part of a route used by migrants trying to enter the EU.
Orban said that "Bulgaria's successful defense is in the common interest of all of us."
Borisov, who is seeking immediate assistance of 160 million euros ($180 million) from the EU to bolster Bulgaria's border security, said that "without joint efforts by all EU states, a lasting solution cannot be found."
___
10:40 a.m.
European Commission President Jean-Claude Juncker says solidarity cannot be imposed on EU member countries amid vehement opposition in some states to his refugee quota scheme.
Juncker told EU lawmakers Wednesday that "solidarity must be voluntary, must come from the heart."
His Commission drew up an obligatory scheme to share 160,000 refugees in Greece and Italy and any other overwhelmed country among their EU partners over two years. Slovakia, which currently holds the EU's rotating presidency, and others have refused to take part. Hungary even launched a legal challenge.
One year on, fewer than 5,000 refugees have been moved.
Despite the about-face, Juncker appealed to EU nations to do their "fair share" and relocate refugees, and resettle others from places like Turkey.