The Latest: Hundreds of Iraqis line up for food in Mosul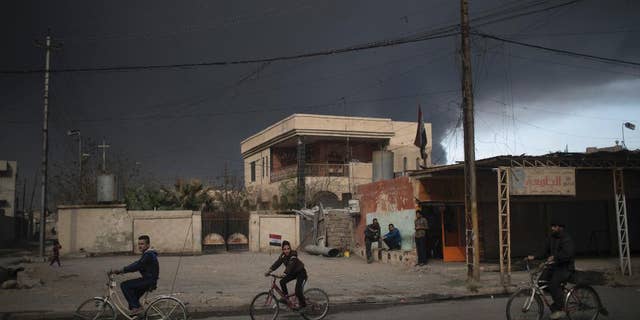 BAGHDAD – The Latest on Iraq's Mosul offensive (all times local):
1 p.m.
An Iraqi officer says hundreds of hungry civilians are lining up for food in eastern neighborhoods of Mosul recently retaken from the Islamic State group.
Maj. Salam al-Obeidi says some 700 residents assembled Tuesday in three areas of the Zahra and Qadisiya neighborhoods, the latter of which was the scene of a fierce IS counterattack a day earlier.
He says Iraqi forces gave the people their own food but did not have enough to meet their needs.
Iraq launched a major offensive last month to drive IS out of the northern city, the country's second largest, which is still home to more than 1 million civilians.
___
11 a.m.
The United Nations says fires set by Islamic State militants at oil wells and a chemical plant near Mosul have forced over 1,500 people to seek medical treatment for respiratory problems.
The group's humanitarian affairs coordination office says Tuesday the fires have emitted toxic smoke for 25 to 60 days, affecting 14 towns.
It says the mid- and long-term effects on people's health, the environment, agriculture and livelihoods could be dire.
IS shelled and set fire to the al-Mishraq Sulfur Gas Factory south of Mosul in late October, causing the deaths of at least four people from toxic fumes, the U.N. has said, likening the attack to the use of chemical weapons.
Nearby oil wells set ablaze by IS have been burning uncontrollably since June.