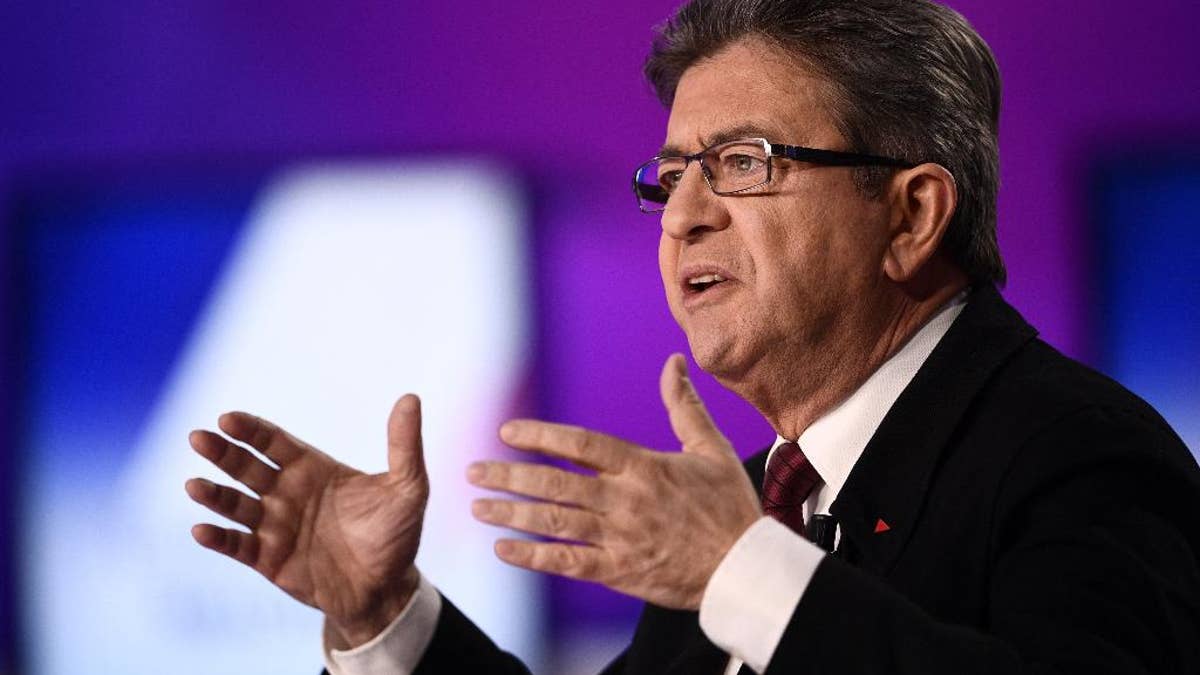 PARIS – The Latest on the presidential campaign in France (all times local):
8:40 p.m.
Far-left presidential candidate Jean-Luc Melenchon has advocated for an "independent France which will be the world champion of peace".
Melenchon and the 10 other presidential candidates appeared on a television program Thursday night where they are scheduled to speak one after another.
Melenchon said he wants to have a dialogue with Germany about renegotiating European Union treaties and creating new rules for the bloc for when Britain leaves.
The 65-year-old anti-establishment contender said about the EU: "We change it or we leave it. But I think our partners will want us to stay because without France, there is no Europe."
He also wants France to quit NATO.
Melenchon has enjoyed a late surge in polls that place him among the top contenders during Sunday's first-round vote. Only the two top-getters will advance to the runoff on May 7.
___
6:45 p.m.
French presidential hopeful Emmanuel Macron has had a phone call with former U.S. President Barack Obama.
The independent centrist said in a written statement that the conversation focused on Europe's future and the "values of progress they are both very attached to."
He said Obama expressed his deep attachment to France and the importance of the relationship between the two countries.
Macron warmly thanked Obama for his "friendly call," the statement stressed.
Macron, who speaks English fluently, is one of the front-runners in France's presidential race.
Polls suggest he has good chance to be among the two top contenders in Sunday's first round of the vote and advance to the May 7 runoff.
___
4:40 p.m.
The 11 men and women hoping to be France's next president are appearing on national television seeking to sway voters in the nail-biting, unpredictable election campaign.
The candidates will each have 15 minutes Thursday night individually to answer questions about their stances, along with a brief conclusion at the end, in a prime-time program on France 2.
The four top candidates — centrist Emmanuel Macron, far-right Marine le Pen, conservative Francois Fillon and far-left Jean-Luc Melenchon — will be seeking to impress the 30 percent of French voters who are still undecided.
The French presidential race's outcome is increasingly uncertain just three days before Sunday's first-round vote. The two top vote-getters on Sunday will advance to the May 7 presidential runoff.
___
1:25 p.m.
French police say thieves stole a computer and a police armband from a car used by aides to presidential candidate Francois Fillon.
Police commander Christophe Voreux said Thursday that the two parliamentary aides and a member of Fillon's security detail were dining in a fast-food restaurant when someone broke into their hire car parked outside.
The theft Tuesday night near Lille airport in northern France is being investigated.
The government previously announced that security around candidates and the election has been stepped up ahead of Sunday's first-round vote. Earlier this week in Marseille, police arrested two alleged Islamic extremists who were suspected of planning an attack.
___
12:45 p.m.
A French presidential campaign that's been filled with unprecedented twists and turns still has surprises in store heading into Sunday's first-round vote.
With voters in a rebellious mood and many still hesitant about their choices, the identities of the two candidates who will progress to a winner-takes-all May 7 runoff remain anyone's guess.
Anti-establishment French populists — far-right candidate Marine Le Pen and Jean-Luc Melenchon on the far left — hope to surf to power on voter disgust with politics as usual.
A jobs-for-the-family financial scandal has punctured the campaign of one-time front-runner Francois Fillon and fueled the raging distrust between voters and their elected representatives.
The implosion of the ruling outgoing President Francois Hollande's Socialist Party, has paved the way for his former economy minister, centrist Emmanuel Macron, to surge in the polls without major party backing.