Thailand 'white mask' protesters rally in Bangkok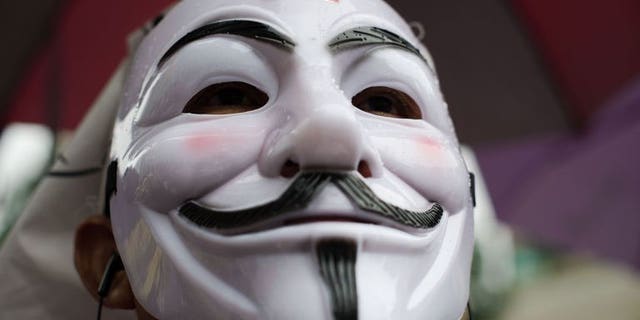 BANGKOK (AFP) – Hundreds of anti-government protesters -- many wearing white masks -- converged on Bangkok's shopping district, Thai police said Sunday, in a reminder of the kingdom's political divisions.
The demonstration by the 'V for Thailand' movement -- an enigmatic protest group spawned over social media whose supporters wear the masks of comic book hero 'V' -- was the fourth this month outside the CentralWorld complex in the heart of the city.
"There were about 1,500 white mask protesters attended a protest," Deputy Metropolitan police chief Parinya Jansuriya said, adding the protest -- which lasted several hours -- was "peaceful."
Thailand has been plagued by political divisions and sometimes violent street protests involving so-called 'Red Shirt' supporters of Prime Minister Yingluck Shinawatra -- and her self-exiled brother Thaksin -- and 'Yellow Shirts' who support the pro-establishment opposition.
Several other protest groups have sprung up in recent months protesting against the government of Yingluck and the influence of her brother, who is seeking a return to the kingdom but faces jail over corruption.
Little is known about the leaders or political allegiances of V for Thailand, but the group has swiftly developed a major social media profile railing against the government and Thaksin.
The group's Facebook page says it represents "people power" urging peaceful opposition to "parliamentary monopoly and corruption".
In a film version of the comic strip called 'V for Vendetta', white masks are distributed to encourage people to rise against a fictional dictator.
Thailand is still recovering from street protests by Red Shirts in 2010 that culminated in a bloody crackdown by security forces.
About 90 people were killed and nearly 1,900 wounded in a series of clashes in May 2010 between demonstrators and security forces.
Courts have ruled that some protesters were killed by security forces, leading to charges of murder being laid against then-Prime Minister and current opposition leader Abhisit Vejjajiva -- accusations he strenuously denies.
A trial of 24 Red Shirt leaders on terrorism charges began in December but four of them enjoy immunity as they are now lawmakers, so the case is expected to take years to complete during breaks in the parliamentary session.