Thai soccer team rescue might need to happen sooner than expected, experts warn
With the clock ticking, rising waters threatening and the world raptly looking on, rescue workers were trying to settle on a strategy to rescue the young Thai soccer players who've been trapped in a cave for two weeks.
As of Saturday, about 8:30 p.m. ET, speculation was heightening about the imminent start of a rescue operation. The Guardian reported that media were being told to leave the camp around the cave. Reuters quoted officials as saying the evacuation was being done so that a "rescue operation" could take place.
"Assessing the situation now, it is necessary to evacuate the area for the rescue operation,'' Mae Sai Police Cmdr. Komsan Sa-ardluan said over a loudspeaker, Reuters reported. "Those unrelated to therescue operation, please evacuate the area immediately.''
Dozens of divers had arrived at the cave, the Associated Press reported.
The precise time frame for a rescue operation remained unclear, however.
The team of 12 boys, ranging 11 to 16 years of age, have been stranded alongside their 25-year-old coach in northern Thailand's Tham Luang Nang Non cave since June 23 – when they went exploring after a practice game. The team was without food for more than a week until rescuers discovered them alive -- and stuck underground.
Now, with heavy monsoon rains expected imminently – and threatening to make the already-complicated rescue effort even more treacherous – Thai officials said Saturday they might need to move even more quickly to save the team.
A new development: 13 fully staffed medical teams – one for each young soccer player and the coach – were now standing at the ready at any given time, Reuters reported. Each medical team had an ambulance and helicopter also ready for use.
"I confirm that we are at war with water and time from the first day up to today."
"I confirm that we are at war with water and time from the first day up to today," Chiang Rai acting Gov. Narongsak Osatanakorn said, according to the Associated Press. "Finding the boys doesn't mean we've finished our mission. It is only a small battle we've won, but the war has not ended. The war ends when we win all three battles – the battles to search, rescue and send them home."
He said authorities were waiting for two big groups of volunteer foreign divers to arrive this weekend, after which they would be ready to act quickly to bring the team members out when the conditions were right.
Initially rescue officials said an option for the team would be just to wait out the rainy season – as diving could prove to be too dangerous – with necessary supplies being delivered. But given that Thailand's rainy season can last until October, that plan could take months with complications coming up with rising water levels.
THAI SOCCER TEAM RESCUE EFFORTS 'WILL TAKE TIME': A LOOK AT SOME OF THE OPTIONS
Another concern is the oxygen levels inside the cave could get dangerously low. On Friday, officials said the levels inside the cave where the team is had fallen to about 15 percent; normal levels should be around 21 percent, according to the Guardian.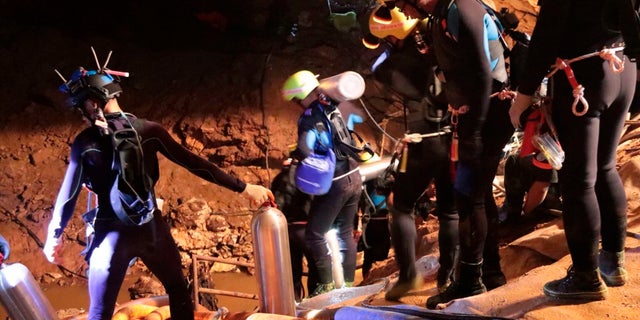 Now, Thai officials have said they might need to act very soon – meaning within the next few days. If weather forecasts are correct, access to the cave could soon close again due to flooding from seasonal monsoon rains. Earlier efforts to pump out water from the cave have been set back every time there has been a heavy downpour.
Even with lower water levels, rescue efforts are tricky, officials have warned. A former Thai navy SEAL who was assisting in rescue efforts became trapped inside a partially flooded cave complex Friday and died from a lack of oxygen.
Oxygen tanks have been brought to where the team is, but rescuers have not been able to run a hose to them that would pump oxygen.
Saman Kunan, 38, was returning at about 1 a.m. from the chamber where the boys are trapped when he ran out of oxygen, passed out and died. Kunan had left the SEALs in 2006 to work at Bangkok's airport as an emergency rescue officer.
Rescue officials have said bringing the team out in an underwater diving mission is especially risky, given the lack of nutrients the boys had while they were in the cave without food as well as the lack of training they have in diving. The flooded passages contain twists and turns.
THAI SOCCER TEAM EVACUATION POSTPONED AS RESCUERS CONTINUE PREPPING BOYS FOR DIVE
The coach and the young players have been able to send out handwritten letters to their parents, telling them not to worry and expressing what they'd like to eat when they're rescued.
"Nick loves Mum and Dad and siblings. If I can get out, Mum and Dad please bring me mookatha to eat," one child said, referring to Thai barbecue, according to the BBC.
Another child said, "Don't worry, we are all strong. Teacher, don't give us lots of homework!"
The coach, Ekkapol Chantawong, apologized to the parents in his letter, saying, "I promise I will take care of the kids as best I can," the BBC reported.
Tech billionaire Elon Musk sent a team of engineers to Thailand to see if they can help in the rescue effort. Musk's Boring Company digs tunnels for advanced transport systems and has advanced ground-penetrating radar.
According to Fortune magazine, one idea advanced by Musk via Twitter was to perform a rescue using a "tiny, kid-size submarine" made from part of one of his space company's orbital rockets.
Fox News' Benjamin Brown, Chris Irvine and Amy Lieu and the Associated Press contributed to this report.