Thai rescue vehicle carrying 10 drives off cliff; injuries reported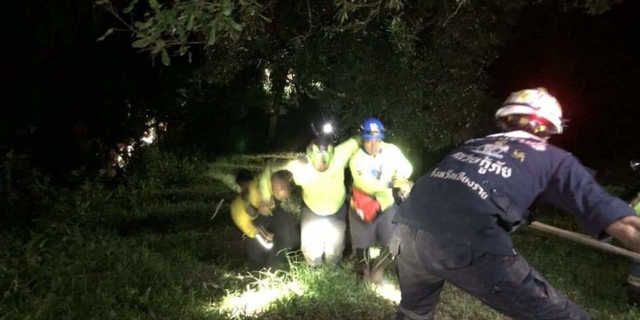 A rescue vehicle carrying a crew of 10 people drove off a cliff in Thailand on Saturday, foiling another effort to rescue 12 young soccer players and their coach, who have been trapped in a cave in northern Thailand for two weeks.
The rescue team had been looking for chimneys around the mountain atop the cave. One person was "badly injured," according to Thailand-based blogger Richard Barrow. The remaining injuries were not believed to be serious.
Previous rescue attempts have proved to be dangerous. On Friday a Thai navy SEAL diver died while trying to rescue the youths.
Thai officials estimate a three- to four-day window remains to free the boys.
On Saturday Thai officials cleared media from the entrance of the cave, leading to speculation that a new rescue effort was imminent.
Thai officials were expected to provide updates at a news conference Sunday morning.
This is a breaking news story.