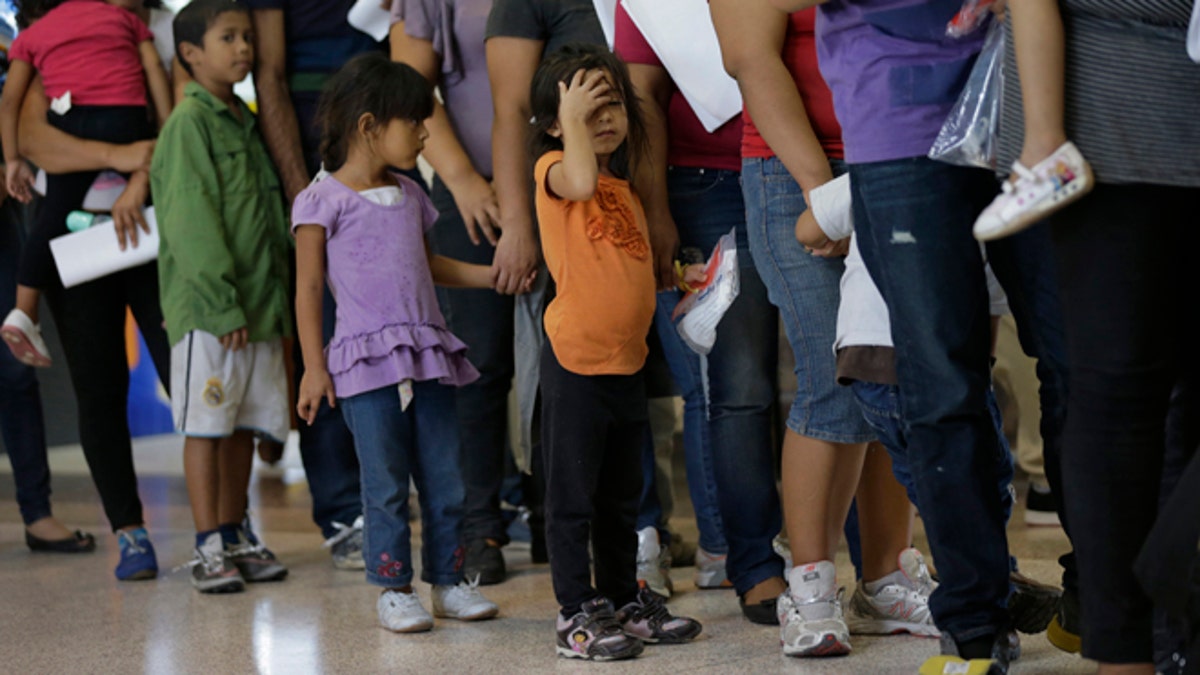 Local officials in Texas say they are prepared to receive hundreds of Central American children now crossing the border illegally who are described by U.S. federal authorities as having fled violence in their home countries.
Federal authorities have said that a new spike in unaccompanied minors has created a need to open new shelters in Texas and California.
A total of 10,588 unaccompanied children crossed the U.S.-Mexico border in October and November, more than double the 5,129 who crossed during the same two months last year, according to the U.S. Border Patrol. The number of families crossing together has nearly tripled to 12,505 people.
At a press conference Thursday, Ellis County officials said some 500 undocumented children will be transported to a camp area in the next few days. They are expected to be at the Lakeview Camp and Retreat Center for the next three weeks as plans are developed on where they will go from there, according to the Dallas Morning News.
Rick DuBose, superintendent of the Assemblies of God, said that some 50 percent of the unaccompanied children will be returned to their countries. Others are expected to be resettled with relatives here, DuBose said.
DuBose said Lakeview's agreement with a non-profit organization was to house 500 children and more than 200 support staffers. The children are mainly between 12 and 17 years old, according to published reports.
"We didn't feel like there was any way we could turn them away and not care for them and feed them when we have beds that are empty, and food that can be served and a process here," DuBose said, according to KeraNews.org. "It's our slowest time of year. So we were very available. We've jumped on it. We're honored to give these kids a place to live for the next three weeks."
Ellis County Sheriff Johnny Brown said there would be enough police security to keep the facility safe for everyone. Every two children would have one adult worker assigned to them, Brown said.
"I want to make sure the citizens of Ellis County know that this is under control, and we have everything secure, and they have no fears at this point. We do have a plan in place for any kind of emergency," Brown said, according to KeraNews.org. "This will become a miniature city for the next 21 days. They have fire control, EMS, everything under control."
Hundreds of other children will be housed at another rural camp, the Sabine Creek Ranch in Rockwall County.
Another shelter will house children in California, according to published reports
Officials in Texas assured the public that the U.S. Health and Human Services department will oversee the care of the children, and that there will be no cost to Rockwall County, according to Kera News.
"Rockwall County is sensitive to the hardships and needs of these unaccompanied children," said a county statement on its website. "However, Rockwall County's first priority is to the safety and security of the citizens of Rockwall County."
But not everyone was receptive to the idea.
U.S. Rep. Joe Barton, a Texas Republican, said in a statement that he objected to the way the White House had handled the matter of the shelters.
"I am very disappointed in the way the Obama administration notified me and the people I represent in the 6th district of Texas about the relocation of the unaccompanied minors," Barton said. "There was no public meeting organized in advance locally, and no ability to protest the decision. My office was notified two days ago, and at my insistence, local officials were subsequently notified."
Texas residents expressed mixed feelings.
"It just boggles my mind that the United States would let these people come over here," said Christopher Bruton, a resident who was quoted by a local NBC affiliate. "Every single one of them needs to go back home to where they came from."
But hairdresser Bree Carpenter said that after initial feelings of opposition to the idea, she now welcomes the children.
"Maybe their lives can be touched," she said of the children to NBC. "A mother, you know, a parent who loves children – or anybody – it would be hard not to be compassionate."
Like us on Facebook