Tensions flare again between Japan, China over disputed islands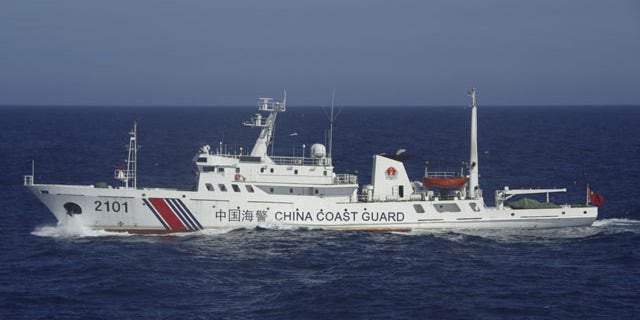 TOKYO – Tokyo expressed concern Thursday over recent Chinese military and naval activity near disputed islands that Japan controls, including the flight of a Chinese fighter jet near Japanese airspace.
Japan's Defense Ministry scrambled fighter jets Wednesday to keep watch on a Chinese early warning plane flying over international waters between Japan's main Okinawa island and an outer island relatively close to the disputed area in the East China Sea.
Around the same time, Japan spotted four Chinese coast guard vessels near the disputed islands for the first time following Beijing's reorganization of the service to boost its ability to enforce its maritime claims.
"It was an unusual action that we have never seen before. We'll keep monitoring with great interest," Prime Minister Shinzo Abe said of the Chinese flight before leaving for Malaysia, Singapore and the Philippines, where he planned to discuss ways to cooperate and check China's maritime activity in the region. "I would like to share an understanding that we need to observe a rule of law, not a rule by force."
Japanese Defense Minister Itsunori Onodera said late Wednesday that the flight of the Chinese Y-8 early warning plane was "a sign of China's escalating maritime advance."
Japan's coast guard said the four Chinese craft were seen early Wednesday just outside Japanese territorial waters around the tiny uninhabited islands called Diaoyu by China and Senkaku by Japan. Chinese websites ran photos reportedly taken by the Japanese coast guard showing a ship painted in the service's new red, white and blue striped Chinese coast guard livery
Along with its claims in the East China Sea, China has also frequently sparred with the Philippines and Vietnam over overlapping claims to parts of the South China Sea, another area to which the new coast guard is being deployed.
A Chinese coast guard ship was sighted recently at Mischief Reef off the western Philippine coast, according to a confidential Philippine government report obtained by The Associated Press. China occupied the vast reef in 1995, sparking fierce protests from rival claimant Manila.
The coast guard's deployment "further demonstrates China's resolve to consolidate its self-acclaimed indisputable sovereignty in the South China Sea," according to the Philippine report.
China's reorganized coast guard, which was formally inaugurated on Monday, merges four agencies responsible for fisheries administration, maritime surveillance, customs enforcement and border control. Chinese officials said the move would help boost efficiency in law enforcement and "better safeguard China's sovereignty and maritime rights and interests."
The new service is being equipped with ships from the four bodies being eliminated, along with newly built or repurposed craft that could make it Asia's biggest and most powerful coast guard. The ships are believed to be lightly armed with machine guns and possibly cannons, giving them teeth to back China's claims to seas and islands if Beijing wished to do so.
The Japanese coast guard said the Chinese vessels were apparently taking the place of ships from China Marine Surveillance, one of the bodies being absorbed by the new service. Those ships had been patrolling in the area for the past eight days as part of a regular Chinese presence in the area, the Japanese coast guard said.
Since an escalation of tensions over the islands, Japanese and Chinese patrol craft have confronted each other on a regular basis in the waters surrounding them, although no clashes have been reported.
The Philippine government report described the new Chinese coast guard ships as former navy frigates previously converted to civilian surveillance vessels.
Along with more advanced communications systems, the ships boast armaments including twin automatic deck guns, the report said.
The new Chinese ships "pose a new challenge" to the ability of the militarily weak Philippines to monitor its territorial claims, it said.
"It is deemed imperative for the Philippines to enhance its present intelligence surveillance and reconnaissance capabilities while seeking a minimum credible deterrent against potential external threats," the report said.