Tense Venezuela Awaits Leopoldo Lopez's Fate As Maduro Vows To Stop 'Challenge'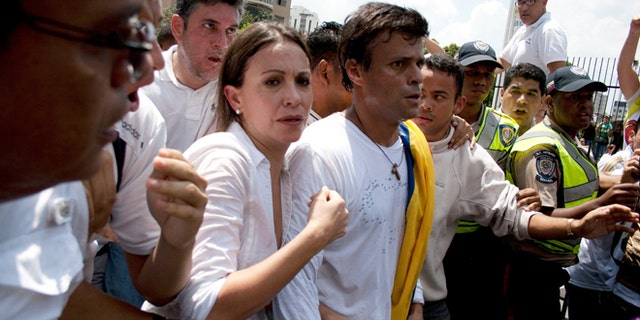 Violence is heating up in Venezuela as the oil-rich country waits to find out the fate of a jailed opposition leader the government blames for a week of demonstrations that have left six dead and at least 100 injured.
"I said, 'Send him to jail,' and that's what happened and that's what will happen with all of the fascists. I won't allow him to challenge the people of Venezuela, the constitution."
Opposition leader Leopoldo Lopez, who dramatically surrendered to authorities before thousands of cheering supporters this week, was supposed to appear before a judge inside a military jail Wednesday to learn what charges he might face for the mass protests that have rejuvenated the challenge to President Nicolas Maduro's government.
The outcome of the hearing had not been announced by late Wednesday, but Maduro suggested in a nationally broadcast speech that Lopez would remain in custody and face criminal charges.
"I said, 'Send him to jail,' and that's what happened and that's what will happen with all of the fascists," Maduro said in a speech that lasted more than two hours. "I won't allow him to challenge the people of Venezuela, the constitution."
The government has accused Lopez, a 42-year-old former mayor and the leader of the Popular Will party, of attempting to foment a coup in the South American nation and authorities had said he could face charges that include homicide and causing grievous bodily harm.
As the waiting dragged into the night, anti-government protesters in Caracas and other cities set trash fires in streets and threw rocks at National Guard troops, who fired tear gas, water cannons and rubber bullets. Gunfire was heard in downtown Caracas while Maduro was on television. There was no immediate word on whether there were any new casualties.
Demonstrators are protesting Lopez's detention as well as the rampant crime, shortages of consumer goods and inflation rate of more than 50 percent that has made life difficult for many in the country of nearly 30 million people.
The president said he would take harsh measures in Tachira, an opposition stronghold on the nation's western border with Colombia where there have been fierce clashes between security forces and opposition protesters. Maduro said he was prepared to declare a "state of exception," a form of martial law.
"If I have to decree a state of exception for Tachira and send in the tanks, I am ready to do it," he warned.
Early on Wednesday, hundreds of Lopez's supporters waited outside a courthouse for news of his legal fate, watched over by National Guard troops. Caracas Mayor Antonio Ledezma, a member of a different opposition party, showed up at one point in a sign of unity among the various foes of the Maduro government.
"We are all united in demanding the release of Leopoldo Lopez," Ledezma said. "We are rallying behind him."
The crowd drifted away after hours of waiting when officials decided to hold the court hearing at the military jail outside the city where Lopez was being detained.
The opposition is planning marches across the country Saturday to protest Lopez's jailing, which has made him a cause celebre among opponents of Maduro. It's helping him to eclipse to some degree Henrique Capriles, the opposition's two-time losing presidential candidate who was building support for another challenge in two years.
Capriles attended a rally on Feb. 12 in Caracas led by Lopez but did not appear on the stage to address the masses of demonstrators. Clashes with police erupted afterward, after the opposition leaders and most of the protesters had left, and resulted in three deaths. In Twitter messages Wednesday, Capriles accused the government of infiltrating opposition demonstrations to provoke violence.
On Tuesday in Valencia, the third largest city, National Guard troops shot rubber bullets and unknown gunman on motorcycles fired live rounds at protesters. Genesis Carmona, a 22-year-old university student who had been Miss Tourism 2013 for the state of Carabobo, was struck in the head and killed by a bullet, a death that reverberated in a country that prizes beauty queens.
The troubles spread on Wednesday, including a significant clash in the wealthy Altamira district of Caracas. In southern Bolivar state, gunman firing from a rooftop at a pro-government rally killed one person and wounded four, Gov. Francisco Rangel Gomez said.
Based on reporting by the Associated Press.
Follow us on twitter.com/foxnewslatino
Like us at facebook.com/foxnewslatino