Tens of thousands of Brazilians flood streets to resume protests against government services, corruption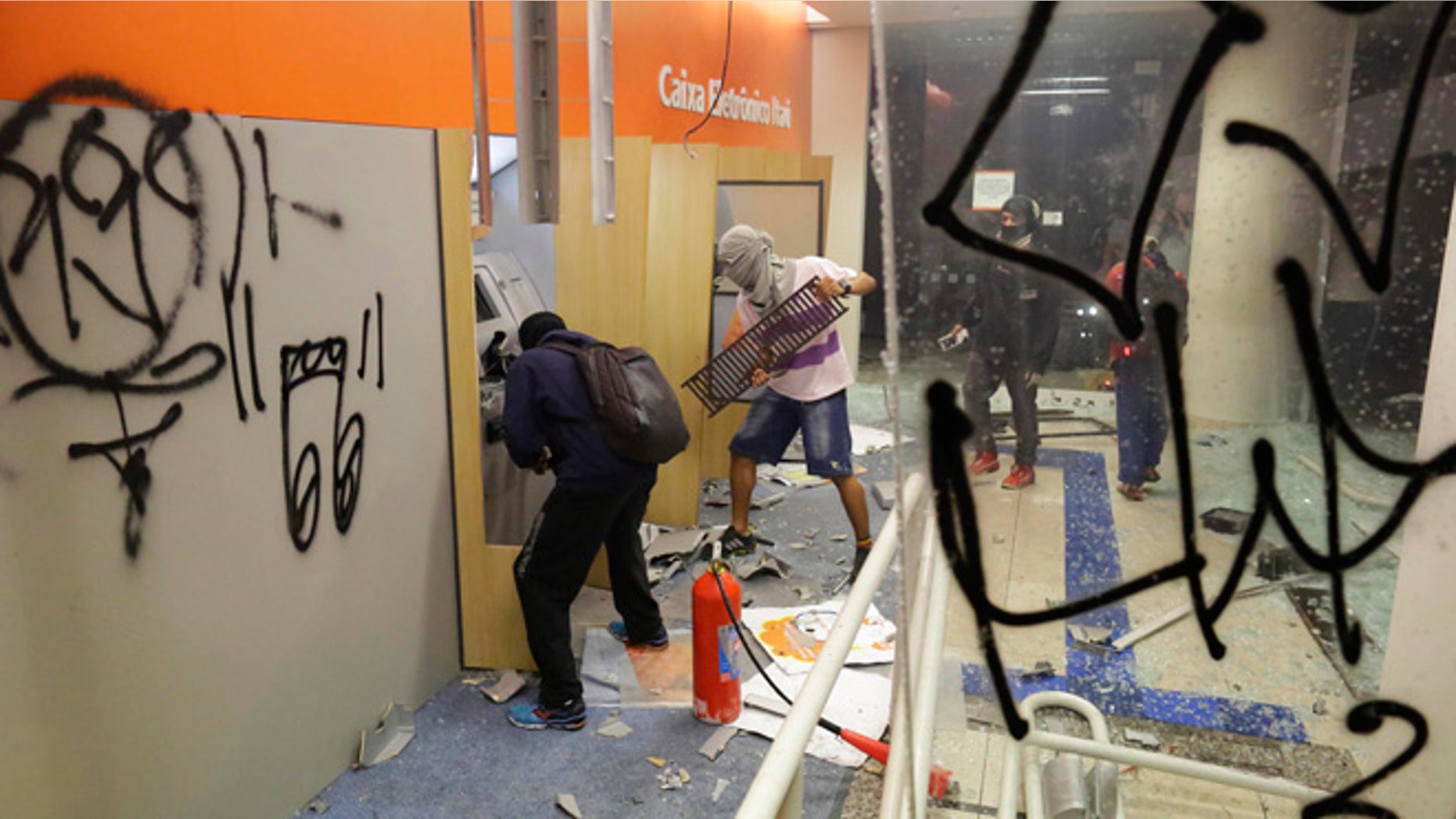 SAO PAULO – Scattered street demonstrations popped up around Brazil Wednesday as protesters continued their collective cry against the low-quality public services they receive in exchange for high taxes and rising prices.
In one of several protests, about 200 people blocked the Anchieta Highway that links Sao Paulo and the port city of Santos before heading to the industrial suburb of Sao Bernardo do Campo, an industrial suburb on Sao Paulo's outskirts. Another group of protesters later obstructed the highway again.
In the northeastern city of Fortaleza, some 15,000 protesters clashed with police trying to prevent them from reaching the Castelao stadium where Brazil will play Mexico in the Confederations Cup soccer tournament on Wednesday.
Police used tear gas, rubber bullets and pepper spray to disperse the crowd.
Local media reports said four police officers were injured when protesters hurled rocks, bricks and pieces of wood they found in a nearby construction site. Five demonstrators were also injured.
The UOL website said protesters also torched a patrol car.
Earlier, hundreds of protesters cut off the main access road to the stadium, and police responded by diverting traffic away from the road near the venue. Official vehicles of tournament organizers FIFA were among those struggling to reach the stadium.
The actions followed another night of mass marches around Brazil and nearly a week of unrest that has shocked the country's leaders ahead of a papal visit next month and next year's World Cup soccer tournament.
Beginning as protests against bus fare hikes, the demonstrations have quickly ballooned to include broad middle-class outrage over the failure of governments to provide basic services and ensure public safety, even as the country's economy modernizes and tax rates remain some of the highest in the world.
Protest organizers, who have widely employed social media, said new mass demonstrations will be held in Sao Paulo and Rio de Janeiro on Thursday. The Rio action promises the most volatility, with protesters planning to march to Maracana stadium where Spain and Tahiti will meet in a Confederations Cup match. Police have said they will not allow protesters to interrupt the game.
Fortaleza, Rio, Belo Horizonte, Salvador and Brasilia have received soldiers from Brazil's elite National Force to bolster security during tournament games.
FIFA President Sepp Blatter urged protesters Wednesday to stop linking their anger against the government to the Confederations Cup. The cost of building stadiums for the FIFA tournaments has been a regular complaint at marches.
In an interview with Brazil's Globo TV network broadcast, Blatter said he could "understand that people are not happy, but they should not use football to make their demands heard."
Blatter added: "We did not impose the World Cup on Brazil."
On Tuesday night, tens of thousands of Brazilians flooded the streets of the country's biggest city, Sao Paulo, following the rhythm of mobilizations that drew some 240,000 people across Brazil the previous night. Though most peaceful, small bands of radicals split off to fight with police.
Fernando Grella Vieira, head of the Sao Paulo state public safety department, said 63 people were detained during Tuesday's protests. He told the Globo TV network on Wednesday that police would guarantee the right to demonstrate but would "repress all forms of vandalism."
Local governments in at least four cities have responded to the unrest by agreeing to reverse bus and subway fare hikes, and city and federal politicians have shown signs that the Sao Paulo fare could also be rolled back. It's not clear that will calm the country, though, with the protests already expanding to take on a wide range of other issues.
Beyond complaints about transit fares, protesters haven't produced any concrete demands. They've waved signs, gone on social media and chanted their anger at not just the government of President Dilma Rousseff, but with the entire governing system. A common cry at the rallies: "No parties!"
"What I hope comes from these protests is that the governing class comes to understand that we're the ones in charge, not them, and the politicians must learn to respect us," said Yasmine Gomes, a 22-year-old squeezed into the plaza in central Sao Paulo where Tuesday night's protest began.
Rousseff, a former leftist guerrilla who was imprisoned and tortured during Brazil's 1964-85 dictatorship, hailed the protests for raising questions and strengthening Brazil's democracy. "Brazil today woke up stronger," she said in a statement Tuesday.
Yet Rousseff offered no actions that her government might take to address complaints.
The protests have raised troubling questions about the country's ability to provide security ahead of it playing host to some of the world's biggest events, including the 2016 Olympics in Rio.
Brazil's media has scrambled to cover the sprawling protests and has even sparked the ire of protesters, with the powerful Globo TV network in particular drawing derision.
Whenever what appears to be a Globo helicopter swoops over a demonstration, protesters hiss, raise their fists and chant slogans against what they say was the network's failure to widely show images of a violent police crackdown on protesters last week in Sao Paulo.
Such mass protests are rare in this 190 million-person country, with demonstrations generally attracting small numbers of politicized participants. The latest mobilizations, by contrast, have united huge crowds.
Many protesting in Brazil's streets hail from the country's growing middle class, which government figures show has ballooned by some 40 million people over the past decade amid a commodities-driven economic boom.
They say they've lost patience with endemic problems such as government corruption and inefficiency. They're also slamming Brazil's government for spending billions of dollars to host the World Cup and Olympics while leaving other needs unmet.
A November report from the government raised to $13.3 billion the projected cost of stadiums, airport renovations and other projects for the World Cup. City, state and other local governments are spending more than $12 billion on projects for the Olympics in Rio.
Attorney Agatha Rossi de Paula, who attended Tuesday's protest in Sao Paulo along with her mother, called Brazil's fiscal priorities "an embarrassment."
"We just want what we paid in taxes back, through health care, education and transportation," said the 34-year-old. "We want the police to protect us, to help the people on the streets who have ended up with no job and no money."
So far, the mass gatherings have shown no evidence of any central leadership, although they've been tied to smaller activist organizations such as one asking for lower transit fares. Groups of Brazilians have also staged small protests in other countries, including Mexico, Portugal, Spain and Denmark.
A cyber-attack knocked the government's official World Cup site offline Tuesday, and the Twitter feed for Brazil's Anonymous hackers group posted links to a host of other government websites whose content had been replaced by a screen calling on citizens to come out to the streets.