Taliban release video purportedly showing kidnapped US, Australian teachers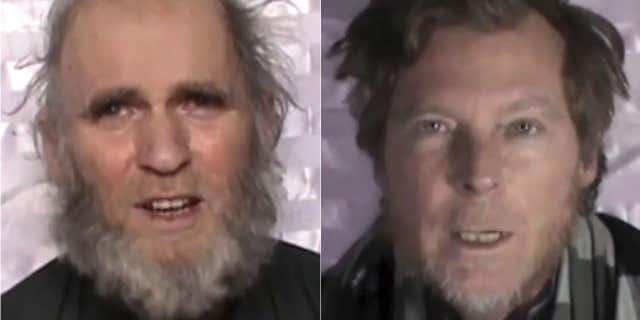 NEWYou can now listen to Fox News articles!
The Taliban released a video Wednesday purportedly showing an American and an Australian who were taken hostage in August, the first time they have been seen since their abduction.
Kevin King, the American, and Timothy Weekes, the Australian, were taken outside the American University of Afghanistan in Kabul, where they were working as teachers. U.S. officials said in September that American forces launched a failed attempt at their recapture.
Taliban spokesman Zabihullah Mujahid released the video to media outlets. The teachers appear pale and unshaven. They say they are speaking in Jan. 1. In the video, apparently delivering a message on behalf of the kidnappers, they ask U.S. President-elect Donald Trump to offer a prisoner exchange to secure their freedom.
Mark Toner, a State Department spokesman, said the U.S. was studying the video and couldn't confirm its authenticity. He declined to comment on the case, citing privacy considerations, but he added: "Taking and holding civilian hostages is reprehensible and we condemn such actions in the strongest terms."
Australia's Department of Foreign Affairs and Trade issued a statement saying the "Australian government has been working closely with other governments to secure the release of an Australian man kidnapped in Afghanistan in August 2016." Citing a request for privacy from the man's family, and "in the interests of his own safety and well-being," Australian officials would not comment further, it said.
Taliban operatives disguised as Afghan military officers kidnapped the pair in August, a security official said. King and Weekes were snatched from their SUV while driving on Sunday night on a main road near the school.
Most of the thousands of foreigners living and working in Kabul are largely confined to their embassies or, in the case of those working for the United Nations or other non-government organizations, to their residential compounds, with limited movement permitted.
The abductions heighten the risk for the few foreigners, including journalists, who move with relative freedom across the Afghan capital in order to do their work.
Residents of the capital complain that crime has risen in recent months, especially robbery and car theft. The apparent rise coincides with an economic crisis as the government has not been able to create jobs or stimulate growth.
President Ashraf Ghani took office in 2014 promising jobs and peace, but has provided neither as the war with the Taliban grinds on for its 15th year.
The police, however, deny a spike in crime.
The Associated Press contributed to this report.