Taliban Attacks Kill at Least 24 in Pakistan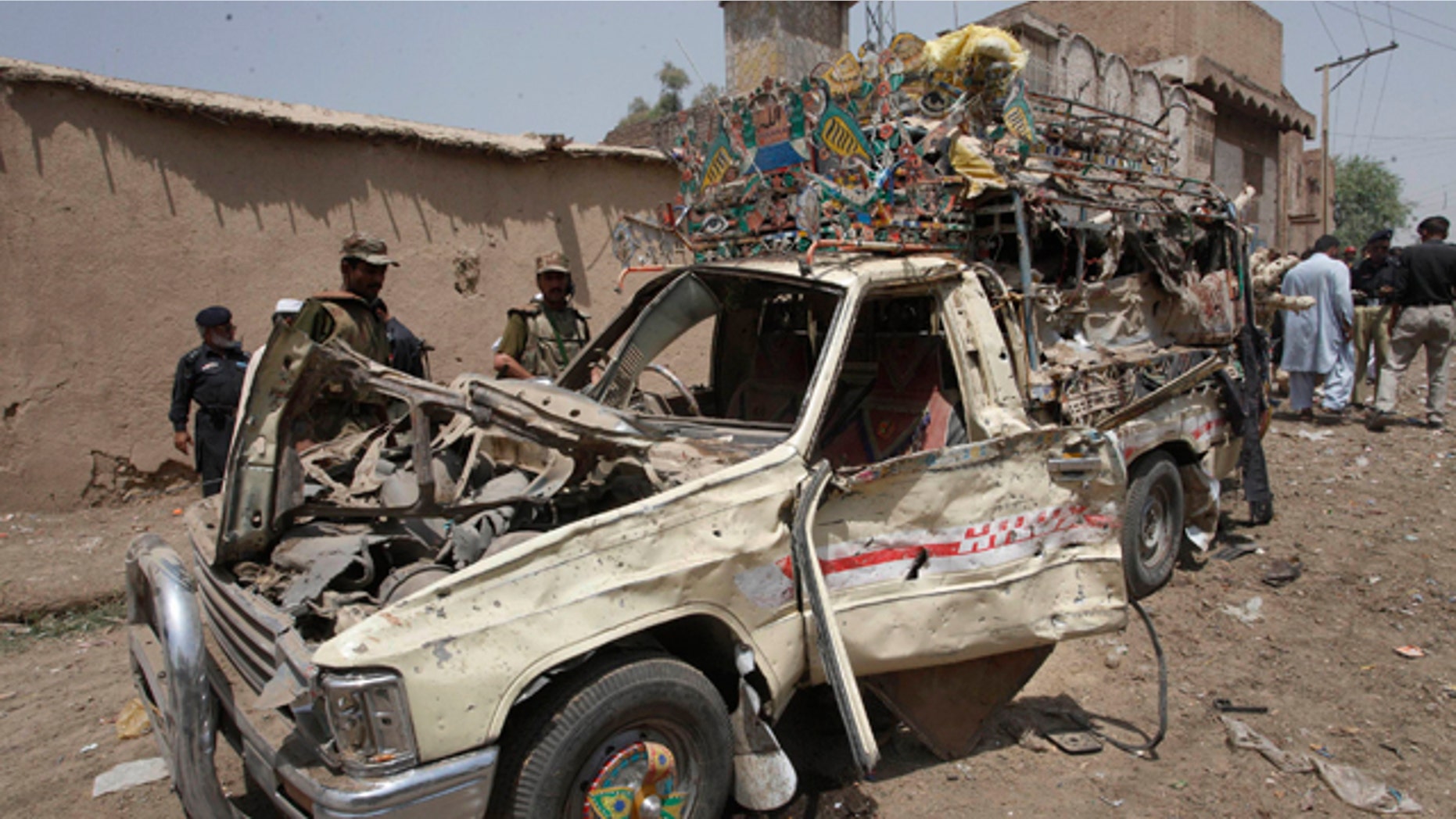 PESHAWAR, Pakistan – Taliban fighters stormed a checkpoint, killing eight Pakistani soldiers in an Afghan border region that the army previously said it had cleared of insurgents, while two bomb attacks on Thursday elsewhere in the northwest killed six civilians, officials said.
The attacks showed the strength of militant groups along Pakistan's border with Afghanistan despite both the Pakistani army offensives against them and U.S. drone-fired missile strikes. After four years of offensives, there are few signs the authorities have the upper hand.
The Taliban raid on the army checkpoint the Marabi area of South Waziristan took place late Wednesday and two intelligence officials said 10 insurgents who took part in the attack were also killed when soldiers returned fire. The officials spoke on condition of anonymity, in line with their organization's policy.
The deadliest of the two bomb attacks Thursday took place on the outskirts of the northwestern city of Peshawar in the Matani area, where several anti-Taliban militias are based.
The blast hit a passenger vehicle, killing four people, including a woman and a child, said Peshawar police chief Liaquat Ali Khan. The target was not immediately clear, but on Sunday another blast in Matani killed six people.
Pakistan supports anti-Taliban militias, which have been relentlessly targeted by the insurgents.
Two other people were killed and three were wounded in a second roadside bombing against a vehicle carrying food supplies for a paramilitary camp in the Upper Dir district of Saber Killy, said police officer Rehmat Khan. Upper Dir saw several large-scale militant attacks last week.
In 2009, the army launched a major operation against the Pakistani Taliban in South Waziristan. The army eventually declared victory in that operation but many of the insurgents fled to nearby areas, including neighboring North Waziristan.
This week, the U.S. launched five missile strikes that have hit both tribal regions. A pair of drone-fired strikes on Wednesday killed 23 people in North Waziristan.
North Waziristan is the usual target for U.S. missiles because it is home to more groups who focus on fighting in neighboring Afghanistan and because the Pakistani military has resisted U.S. appeals to launch an offensive there. The army has preferred to pursue militant groups staging attacks on Pakistani soil.
Islamabad officially protests the missile strikes as violations of Pakistan's sovereignty, but it is widely believed to have secretly aided the program.
The May 2 U.S. raid that killed Osama bin Laden in Abbottabad, a garrison city in Pakistan's northwest, infuriated Pakistani lawmakers who saw it as another violation of their sovereignty. Pakistan's parliament passed a resolution demanding the missile strikes end, but the U.S. has ignored it.