Syrians circulate 'we love you' Trump memes, hope for U.S. intervention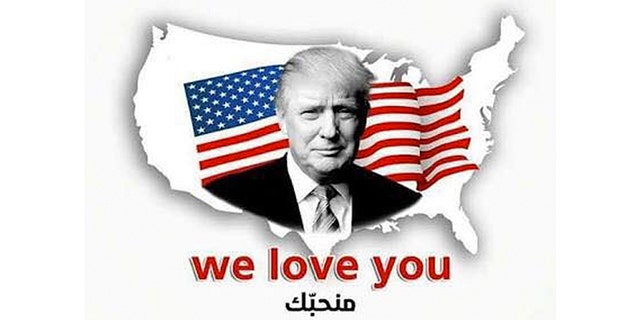 ERBIL, Iraq – As President Donald Trump tweets intentions to strike in Syria following Saturday's suspected chemical weapons attack, supporters of the Syrian opposition are waiting with baited breath, enthusiastically circulating pro-Trump memes in a bid to whip up support for U.S. action.
Syrians holed up in rebel-held areas and in the larger diaspora on Wednesday circulated a new meme on social media featuring Trump's face - overlaying an American flag - with the words "We love you," in Arabic and English.
"We are all with Trump, we will never forget that he stands with us and save us from the hell of Russia, Iran and Assad," Tarek Muharam 40, a leader in the opposition Free Syrian Army (FSA) told Fox News. "Finally, someone smelled the smell of chemical weapons and decide to stop these massacres."
Others supporting the Syrian opposition who spoke to Fox News conveyed similar hopes the U.S. would soon intervene.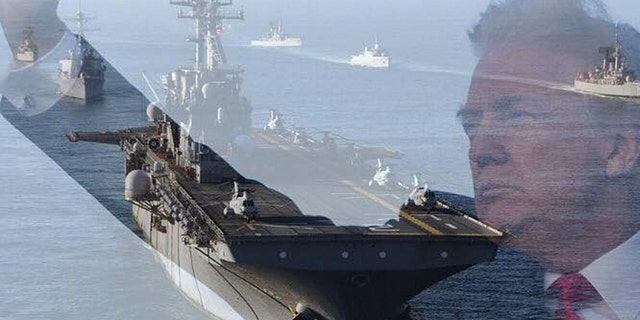 "I hope that the strikes will be much bigger this time to target all the military and security units of regime so the Syrian people can get their stolen freedom," said 30-year-old Amer Alfaj, who works with the Qatar Red Crescent in northern Syria.
The United States, backed by Britain and France, has said it is ready to take military action in Syria - with or without support from the United Nations Security Council.
"The U.S. must take the responsibility to lift the injustice on Syrian people," said Yousef Obeid, 22, a medical aid worker in Al-Atareb.
Muhammad Basher, 27, a civil activist west of Aleppo, concurred. "If you want to end the Qaida and ISIS in Syria, you must overthrow Assad regime and the terror groups will be gone."
Earlier on Wednesday, Trump - who promised a fast response with how the U.S. would retaliate - went on a twitter flurry aimed particularly against Russia, who had warned the U.S. on Tuesday that any military action in Syria would not be tolerated.
"Russia vows to shoot down any and all missiles fired at Syria. Get ready Russia, because they will be coming, nice and new and "smart!" You shouldn't be partners with a Gas Killing Animal who kills his people and enjoys it!"
Maria Zakharova, the spokesperson for the Russia Ministry of Foreign Affairs, was quick to respond on her verified Facebook page Wednesday.
"U.S. President Donald Trump has stated that Russia should be ready to shoot missiles issued in Syria," read the post. "Smart missiles must fly towards terrorists, not a legitimate government that has been fighting international terrorism in its territory for several years."
The possibility of U.S. action against the Syrian dictatorship of President Bashar al-Assad, which has denied carrying out chemical attacks despite evidence to the contrary - has prompted cause for concern inside and outside Damascus.
Assad left his presidential office and has moved to an unknown position, according to reports on Wednesday. Meanwhile, militia factions supporting the Syrian regime, including the Lebanese Hezbollah, are said to have evacuated their headquarters.