Syrian troops push forward against rebels, capture Damascus suburb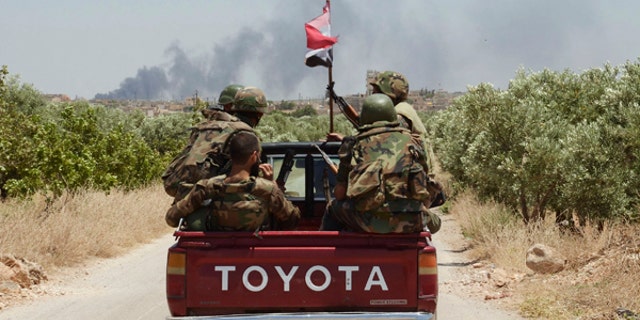 BEIRUT – Syrian troops pushed forward with their offensive against rebels Saturday, capturing a suburb near the Damascus international airport as the U.S. warned that the alleged use of chemical weapons by President Bashar Assad's forces and the involvement of the Iranian-backed militant group Hezbollah in the civil war threaten to put a proposed political settlement out of reach.
The U.S. and Russia have been pressing for a peace conference to end Syria's civil war in Geneva, but prospects for that have been dampened after a series of regime battlefield victories and hardened positions by both sides as the death toll from the more than 2-year-old conflict has surged to nearly 93,000.
President Barack Obama's decision this week to send lethal aid to Syrian rebels and the deepening involvement of trained Shiite fighters from Lebanon's Hezbollah group also has raised the stakes, setting up a proxy fight between Iran and the West that threatens to engulf more of the Middle East.
The U.S. reversal after months of saying it would not intervene in the conflict militarily came after Washington said it had conclusive evidence the Syrian regime had used chemical weapons, something Obama had said would be a "red line."
Syria has denied the accusations, saying Obama was lying about the evidence to justify his decision to arm the rebels. Syria's ally Russia also suggested Saturday that the evidence put forth by the United States of the use of chemical weapons doesn't meet stringent criteria for reliability.
U.S. Secretary of State John Kerry was quoted in a statement as saying the United States continues to work aggressively for a political solution with the goal of a second Geneva meeting. But "the use of chemical weapons and increasing involvement of Hezbollah demonstrates the regime's lack of commitment to negotiations and threatens to put a political settlement out of reach," he said in a telephone conversation Friday with Iraqi Foreign Minister Hoshyar Zebari.
Russia's Foreign Minister Sergey Lavrov said the U.S. evidence does not include guarantees that it meets the requirements of the Organization for the Prohibition of Chemical Weapons. He said the organization specifies that samples taken from blood, urine and clothing can be considered reliable evidence only if supervised by organization experts from the time they are taken up to delivery to a laboratory.
The OPCW is the autonomous body for implementing the international Chemical Weapons Convention that went into effect in 1997. Its website says Syria is one of six countries that have not signed or acceded to the convention.
Lavrov, after meeting with his Italian counterpart Emma Bonino, scoffed at suggestions that Assad's regime would use chemical weapons in light of its apparent growing advantage against the rebels.
"The regime doesn't have its back to the wall. What would be the sense of the regime using chemical weapons, moreover at such a small quantity?" he said.
Syria's conflict started with largely peaceful protests against Assad's regime in March 2011 but eventually turned into a civil war.
Russia has blocked proposed U.N. sanctions against Assad's regime and acknowledged last month that it has contracted to supply advanced S-300 air-defense missiles to Syria. But President Vladimir Putin and other officials say the policies do not constitute overt support for Assad.
The statements by Moscow and Washington came days before a summit in Northern Ireland among the Group of Eight leading industrial powers. Obama is expected to push Britain and France to take similar action to arm the rebels when talks open in Northern Ireland. The U.S., Britain and France also will urge Putin to drop his political and military support for Assad, still in power after more than two years of fighting.
In fighting Saturday, Syrian government forces captured the rebel-held suburb of Ahmadiyeh near the Damascus international airport two days after a mortar round landed near the airport's runway and briefly disrupted flights, according to the state news agency. SANA said government forces killed several rebels and destroyed their hideouts in the area.
Ahmadiyeh is part of a region known as Eastern Ghouta, where government forces have been on the offensive for weeks in a move aiming to secure Assad's seat of power in the capital.
A local rebel commander who identified himself only by his nickname, Abu Hareth, for fear of government reprisals, said rebels have been firing mortar shells at the airport from Ahmadiyeh area and came under attack by the regime late Friday. He said two rebel fighters have been killed.
He added that rebels destroyed three tanks in the battle, claiming that they have acquired a small number of anti-tank missiles recently.
"A large regime force is attacking the area today," Abu Hareth said via Skype on Saturday.
Intense clashes also continued in the northern city of Aleppo, Syria's largest city, according to the Britain-based Syrian Observatory for Human Rights, which relies on a network of activists around the county. It said regime forces tried to storm the northern neighborhoods of Achrafieh and Bani Zeid after heavy shelling with mortar rounds and tanks but failed to advance after facing resistance from rebels.
The city has been witnessing some of the worst violence in months in recent days.
The Observatory also reported air raids and shelling of Jobar, a key district on the edge of Damascus.
Rebels, who are outgunned by Assad's Hezbollah-backed army, have been urging the world to send sophisticated arms, particularly anti-aircraft and anti-tank weaponry. The West, particularly the U.S., had been reluctant to arm the rebels, in part because of concerns the weapons could fall into the hands of Islamic militants with ties to al-Qaida.
The situation changed in recent months and alarm was raised after government forces with Hezbollah's help captured the strategic town of Qusair near the Lebanese border. On Friday, Hezbollah's leader Sheik Hassan Nasrallah said his militants would keep fighting in Syria "wherever needed."
U.S. officials said the administration could provide the rebels with a range of weapons, including small arms, ammunition, assault rifles and a variety of anti-tank weaponry such as shoulder-fired remote-propelled grenades and other missiles.
Meanwhile, Syria's main opposition group called on Iran's new president-elect Hasan Rowhani to end his country's strong alliance with Assad, saying he should "know the mistakes of the Iranian leadership and change his country's stance before it's too late." The Syrian National Coalition said Iranian authorities have backed "Assad's criminal regime with all political, military and economic means."