Syrian Security Forces Open Fire at Funeral Processions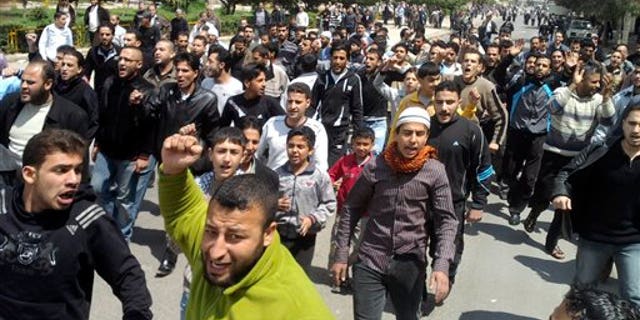 Syrian security forces killed at least nine people when they opened fire on thousands at funeral processions Saturday.
The crackdown comes just one day after security forces killed at least 76 people in the deadliest day of monthlong protests against authoritarian President Bashar Assad.
The mounting death toll prompted two Syrian lawmakers to resign in disgust over the killings. The lawmakers, Nasser Hariri and Khalil Rifai, are from the southern region of Daraa that unleashed the protest movement in mid-March after a group of teenagers were arrested there for scrawling anti-regime graffiti on a wall.
"If I cannot protect the chests of my people from these treacherous strikes, then there is no meaning for me to stay in the People's Assembly. I declare my resignation," Hariri told Al-Jazeera in an interview.
The resignations were exceedingly rare in Syria, where nearly all opposition figures are either jailed or exiled.
In Washington, President Barack Obama condemned Friday's use of force by Syria against anti-government demonstrators and said the regime's "outrageous" use of violence against the protesters must "end now."
In a statement, Obama said Syria's moves to repeal a decades-old emergency law and allow peaceful demonstrations were not serious in light of Friday's events.
He called on Assad to change course and obey the will of his people by giving them what they seek -- freedom of expression, association, peaceful assembly and the ability to choose their leaders.
Among the dead Friday were a 70-year-old man and two boys ages 7 and 10, Amnesty International said. In the southern town of Izraa, a man ran carrying the body of a young boy, whose hair was matted with blood from a gaping wound on his head, as another child wept and shouted, "My brother!" Footage of the scene was posted on the protest movement's main Facebook pace.
In other towns, protesters scattered for cover from sniper bullets, then dragged corpses through the streets. Mobile phone images showed the bodies lined up on the floor inside buildings.
The rallies, most marching out from mosques after Friday's noon Muslim prayers, erupted in towns and cities stretching along the breadth of the country, including in at least two suburbs of the capital, Damascus.
The death toll was likely to rise, as Ammar Qurabi, head of Syria's National Organization for Human Rights, said another 20 people were missing.
Friday's toll was double that of the previous deadliest day of the uprising, on April 8, when 37 were killed around the country. The heavier crackdown came after Assad warned a week ago that any further unrest would be considered "sabotage" after he made the gesture of lifting long hated emergency laws, a step he ratified on Thursday.
It was a clear sign that regime was prepared to escalate an already bloody response, with nearly 300 already dead in more than five weeks. Previously, Assad has mixed the crackdown with gestures of reform in a failed attempt to deflate the protests.
The bloodshed so far has only served to invigorate protesters whose demands have snowballed from modest reforms to the downfall of the 40-year Assad family dynasty. Each Friday, growing numbers of people in multiple cities have taken to the streets despite the near certainty that they would come under swift attack from security forces and shadowy pro-government gunmen known as "shabiha."
"Bullets started flying over our heads like heavy rain," said one witness in Izraa, where police opened fire on protesters marching in front of the mayor's office. The town is located in southern Daraa province where the uprising kicked off in mid-March.
Tens of thousands marched Friday in the Damascus suburbs of Douma and Hajar Aswad, the central cities of Hama and Homs, Latakia and Banias on the coast, the northern cities of Raqqa and Idlib, the northeastern Kurdish region, and in Daraa, witnesses said.
It was certainly one of the most robust gatherings to date, but it was difficult to gauge whether turnout was larger than heavy demonstrations a week ago. Because the protests were so quickly and violently dispersed Friday, it appeared that many gatherings were broken up before the masses hit the streets.
Amnesty International put the day's death toll at 75, mirroring reports from witnesses to The Associated Press.
Friday's witness accounts could not be independently confirmed because Syria has expelled journalists and restricted access to trouble spots. Witnesses spoke on condition of anonymity for fear of reprisals.
As it has stepped up its response, Assad's regime has seemed little affected by mounting international concern over the violence.
White House spokesman Jay Carney said the U.S. calls on the Syrian government "to cease and desist from the use of violence against peaceful protesters" and to "follow through on its promises and take action toward the kind of concrete reform that they've promised."
The Associated Press contributed to this report.