Syrian Protesters Reportedly Given Money to Take Part in Protests Along Israeli Border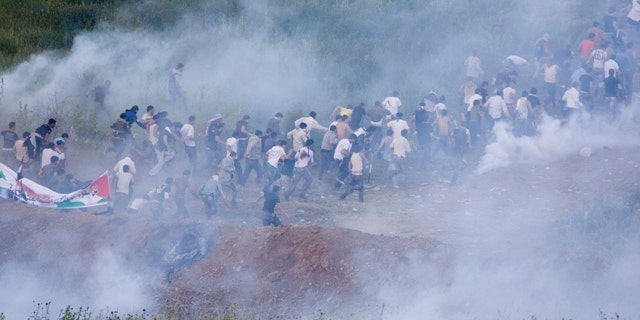 NEWYou can now listen to Fox News articles!
Syrian protesters along the Israeli border were paid thousands of dollars by President Bashar Assad's regime to take part in Sunday's demonstrations where more than 20 people were killed, ynetnews.com reports.
The Reform Party of Syria said intelligence sources told them that the Syrian protesters were poverty-stricken farmers.
They were paid $1,000 for showing up to the protests and their families would be paid $10,000 if they died, according to ynetnews.com.
A Syrian government newspaper says marches to the border will continue and warns Israel the day will come when thousands of Syrians will return to their occupied villages.
Israeli forces opened fire on Palestinian and Syrian protesters Sunday, killing as many as 23 people who tried to cross into the Israeli-occupied Syrian Golan Heights.
The Tishreen newspaper said the march was only an "introduction," adding Syrians and Palestinians were now determined to recover their territory through resistance.
It says Israel should not be surprised when 600,000 Syrian refugees march back to their villages and farms from which their families were forcefully uprooted.
Israel should expect a march "at any time," it said.
The Associated Press contributed to this report.