Syrian peace talks hit roadblocks after ceasefire deadline as ISIS loses ground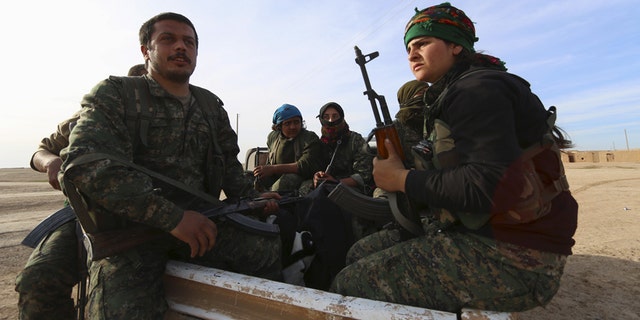 NEWYou can now listen to Fox News articles!
The deadline for a "cessation of hostilities" in Syria came and passed Friday, but instead of any ceasefire, Turkish troops and Kurdish forces launched new attacks as planned peace talks hit stumbling blocks.
Still, Kurdish fighters battling the Islamic State captured a major terror stronghold in the country's northeast. Talal Sillo, spokesman for the Syria Democratic Forces, says their forces captured the town of Shaddadeh after sunset Friday, and the Britain-based Syrian Observatory for Human Rights corroborated his report.
Sillo told The Associated Press by telephone that "we have fully liberated Shaddadeh" adding that the next step is to remove booby traps and explosives left behind by extremists. He also said Turkish troops were bombing border areas Friday, killing civilians.
A U.N. special envoy said there was no way he "realistically" could get all parties to return to the bargaining table by Feb. 25 as he had hoped. "We intend to do so soon," Staffan de Mistura told Swedish newspaper Svenska Dagbladet.
Secretary of State John Kerry said Friday discussions with Russia have been "constructive," adding, "there is certainly a lot more work to do."
The planned "cessation of hostilities," negotiated by the United States, Russia and other countries, does not include groups that the United Nations has designated as terrorists, according to Foreign Policy. Airstrikes targeting groups such as the Al Qaeda-linked Al Nusra Front and ISIS were expected to continue.
Meantime, the International Committee of the Red Cross said it was "deeply alarmed' by the situation in the northern Syrian province of Aleppo where intensified fighting has forced 70,000 people to flee their homes and left many without water or electricity.
ICRC says two hospitals hit earlier this week in Aleppo are now out of service. They had provided thousands of consultations, surgeries and delivered hundreds of babies per month. The Red Cross also says that the hospitals which are still standing are struggling to function.
Also on Friday, Russia's President Vladimir Putin discussed the Syrian crisis in a telephone call with Saudi King Salman.
The Kremlin said Putin and the king "expressed interest in settling the Syrian crisis and ensuring stability and security in the entire region of the Middle East and North Africa." Putin also reaffirmed his invitation for the king to visit Russia at a time that would be convenient for him.
The state-run Saudi Press Agency simply said that "diplomatic relations were discussed in addition to the review of the latest developments in the region."
Moscow and Shiite power Iran back embattled Syrian President Bashar Assad. The Sunni-ruled kingdom of Saudi Arabia has supported Assad's foes throughout the five-year conflict and says it is ready to send ground forces into the country.
The World Food Program said Friday that it hopes aid deliveries to besieged areas of Syria were "not a one-off" convoy and will continue, as the UN agency prepares an airdrop to reach 200,000 in a city surrounded by ISIS.
WFP spokeswoman Bettina Luescher made the comments a day after the UN announced 114 trucks had delivered life-saving supplies over the previous 24 hours for 80,000 people in five besieged areas of Syria.
She said the WFP is preparing a "high-altitude" airdrop into the city of Deir el-Zour, whose residents are being besieged by ISIS fighters, in coordination with Syrian Arab Red Crescent operatives on the ground.
Luescher said Friday that "a WFP registered company" with experience in airdrops was expected to leave from as as-yet-undetermined country in the region.
The Associated Press contributed to this report.