Syrian opposition, activists report chemical attack in Idlib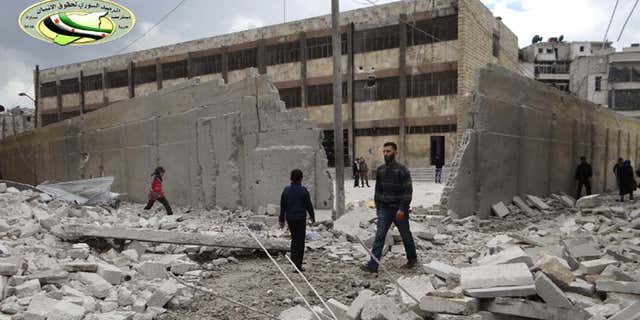 UNITED NATIONS – Syrian activist groups on Wednesday reported another suspected chemical attack in the northwestern province of Idlib, with one group tweeting that a dozen people were "suffocating."
Several Idlib-based groups said government helicopters dropped at least two barrel bombs containing chlorine on the town of Saraqeb, triggering cases of suffocation.
The Syrian Network for Human Rights, which is based outside the country, tweeted that 12 people were "suffocating."
The reports could not be independently verified. A call to Syria's mission to the U.N. rang unanswered Wednesday evening.
The head of Syria's main opposition group in exile said he received the reports during his informal meeting with the U.N. Security Council behind closed doors.
Khaled Khoja with the Syrian National Coalition said he urged the council to act on its resolutions, including one adopted last month that threatens action against the use of chemical weapons in Syria.
Activists have reported several attacks since then, and the council earlier this month heard from a Syrian doctor who treated victims from a half-dozen of them. "Everyone smelled bleach-like odors" and heard the sound of helicopters, Mohamed Tennari said of one incident.
The U.S. and other council members have repeatedly blamed the Syrian government for such attacks, saying no one else in the four-year civil war has helicopters to deliver the toxic chemicals.
But the U.N.'s most powerful body seems stuck in taking further action because there is no way to formally assign blame.
Neither the U.N. nor the global chemical weapons watchdog, the Organization for the Prohibition of Chemical Weapons, has that kind of mandate, though the OPCW this year condemned the use of chlorine in Syria as a breach of international law. Council members have asked the OPCW to look into the latest attacks.
The council found rare agreement on Syria in the fall of 2013 to order the removal and destruction of Syria's chemical weapons, but chlorine was not declared as a chemical weapon. The chemical does not have to be declared because it is also used for regular purposes in industry.