Syrian medical student recounts horror of treating chemical attack victims
GAZIANTEP, Turkey – A 23-year-old who goes by the pseudonym Mohammed Samer last week was like most third-year medical students at Aleppo University - struggling to complete his studies as his country was ripped apart by war.
That changed on Saturday, when suspected chemical weapons and barrel bombs came raining down on his hometown of Douma City, Syria.
"I am a medical student who has worked as an assistant to medical teams, doing what I can, learning on the go and asking for help when needed," Samer told Fox News in a telephone interview, from an underground medical facility. "Then, over the course of a few hours, I was the only 'doctor' making decisions and executing them with absolutely no supervision. I am the person pronouncing people dead or choosing them to be saved."
Samer was pressed into service in part because of the shortage of qualified medical personnel and hospitals across Syria. Many doctors and nurses are among those who have fled the country, in part because of the targeting of hospitals and medical facilities by Russian-backed Syrian government forces.
Samer said it was up to him to decide who among the injured - including children - would make it through a leg amputation in the small operating room next to an overflowing emergency room.
"I had to refer six people to get amputations and start a life of disability. Two were children about 10, the others were men," he said. "Just when they thought they were about to survive the war and go back to their normal lives."
The surgeries were performed without anesthesia or painkillers, which are in desperately short supply across the besieged city. "We are all now used to seeing people in our community without a leg or a hand - it is a usual sight," Samer said.
The casualties kept coming through Saturday night, added Samer, who said he could smell chlorine gas on the victims. But he believes there were "two types of gas used," given the symptoms he saw.
WARNING -- GRAPHIC IMAGES: SYRIA POISON GAS ATTACK
"Usually we see hard breathing and contracted pupils … on Sunday we also saw unconscious patients and dilated pupils, and also a bloody cough. This was the first time we saw that here."
Samer recalled seeing two babies about four hours after the attack, with visible signs of toxicity. Both died just minutes after being brought into the facility.
"These passing hours were incredibly tragic, for me, the hospital and the medical crew at large," Samer said. "In spite of it all, we do not have the luxury of giving up - there is simply no one else to do our job if we got tired, or quit altogether. You have to keep going until you collapse of exhaustion at the emergency room."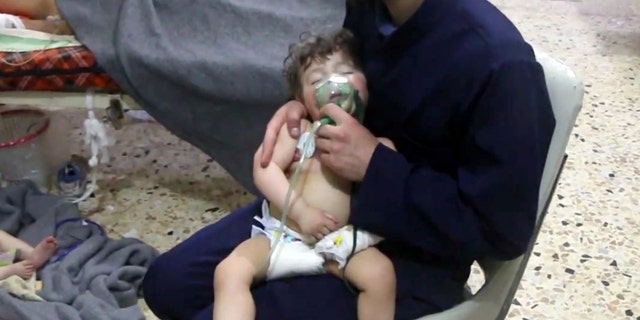 Samer said he worried about the prospect of his next patient being a friend of family member. "At such times, you have to forget about your family, and pray they are safe … You have to put your feelings and instincts aside, ignore the sounds of shelling closing in, the dust in the hall outside, the noises coming from the patients in the waiting room, and focus on the one before you."
The soundtrack of war has been an all-too familiar melody for Samer, and other Syrians. But he said he wasn't prepared for what he faced in the suspected chemical attack.
RUSSIA BLAMES ISRAEL FOR DEADLY AIRSTRIKE ON ASSAD BASE AFTER ALLEGED CHEMICAL ATTACK
"Throughout the last few years, we lived through many terrible days and massacres," he noted. "But these last two days were the worst I have ever seen."
A respite of sorts came later Sunday, when the bombing finally stopped. But that only raised the question of what comes next.
"I don't know if I will be able to be a student again and ever become a doctor," Samer said. "But I did my job. I did the best I could. I have lost my family home in the destruction, I have lost many friends. I will go now with two bags, and many memories."